Cybercrime is getting worse as years go by. According to this post at Business Insurance USA, there are 556 million victims of cybercrime with over $455 billion losses every year.
As a blogger, you may not be as worried compared to bigger businesses since your small online space is hardly worth the attention of hackers. However, what will you do if, by any chance, your blog does get hacked? Do you have a way to recover the lost files.
Setting up preventive measures to lower, if not eliminate, the risk of a security breach on your blog is essential. By keeping your blog protected at all times, you can minimize the damages caused by the hack and continue to operate at optimum levels for the benefit of your audience.
Below are some tips that you need to follow and observe to keep your blog safe and secure from cybercrime.
Migrate your HTTP to HTTPS
If you have forms that your visitors need to fill out on your blog, then you should be aware that hackers can use the forms to get information from your audience so they can attack them. This is not good for business because you want your audience to feel safe when using your blog. By risking valuable information from visitors in the wrong hands, you might discourage them from visiting your site again.
To counter this issue, you need to consider moving your site from HTTP to HTTPS. This will help encrypt the activity taking place between visitors and blog, whether it's filling out a form or bouncing from one page to another. Therefore, "eavesdroppers" won't be able to steal information from your site.
The process of moving your blog to HTTPS involves a lot of moving parts such as your hosting and platform you're using to run your blog. In any case, you need to contact your hosting provider for information on how to get this done with the least hassle. In the meantime, you can read this post on Search Engine Land about HTTPS for details.
Install a firewall
When blogging, you need to consider not only the protection on your blog but also your desktop computer or laptop that you usually use. When you log into your admin dashboard, you need to be wary of the security of the computer you are using. If it has been compromised or is infected with viruses, then you put your blog at risk as well.
To prevent this from happening, you need to install a firewall software on your computer. Freemium ones like Avast! and Comodo should be enough to provide you with enough protection to keep your CPU from getting infected. Also, prevent from using computers without a firewall when accessing your blog to keep it safe from malicious threats.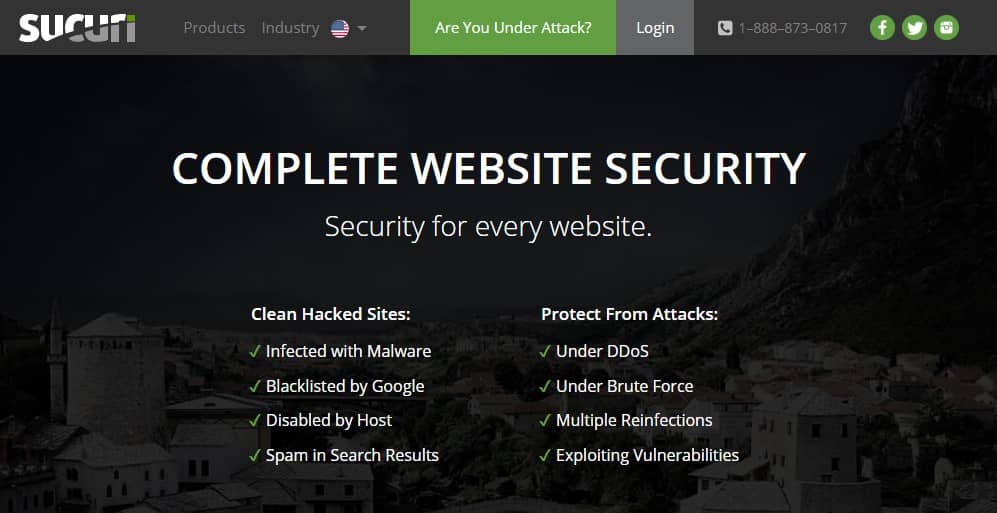 When it comes to your blog, you can install Sucuri to protect your blog by continuously monitor your website from all its activities and provide a firewall to keep all your information safe. After, if your site does get infected, Sucuri also offers cleanup services to restore your site's original state.
For WordPress blog owners, you can choose from these reliable and free security plugins to keep your blog safe from exploits and threats that are prevalent in this blogging platform.
Always save a backup
If your blog does fall into the hands on hackers and messes up your files, then there's no way to recover from this unless you have a backup of your latest files saved somewhere. Therefore, you need to use a tool that allows you to automatically backup a copy of your files. When your blog does get hacked, you can simply download your latest backup and just upload them to you hosting like nothing happened!
A cost-effective solution is CodeGuard. For as low as $5/month, you can enjoy daily backup and monitoring, so you don't have to do it yourself. WordPress also has lots of plugins to help you create backups of your blog, one of them is UpdraftPlus. There's a free version where you can
create backups manually and save it on your local drive and a paid version where the plugin will schedule the creation of backups for you and store them in the cloud (good for two sites).
Protect site from scrapers
There are blogs that steal existing content from other blogs and pass it as their own. These scrapers pose a threat to your online safety because they can damage your blog's SEO. What they do is take your blog's RSS feed and plug it on their site. Therefore, every time you publish a blog post, your feed also updates so that the scraper site will also publish your latest content.
When that happens, instead of your site ranking on search results for your target keywords, there's a chance that their blogs will rank ahead of you. Also, some scraper sites have poor domain authority (DA). Since your feed items most likely link back to your blog posts, you acquire a backlink from a low-quality site, which could further affect your search rankings.
While you can simply ignore these scrapers (consider them as a form of flattery) since Google has caught up with them and their practices, you can still take a more proactive stand against them by reading this post by Hartley Brody and following the steps he provided.
Shutdown comment spam
Spammy comments are common among popular blogs. Comments that add little to no value to your blog posts can be considered as spam. Comment spam ranges from one-liners, i.e. "Great post!" to junk messages that link to a spammy site.
You can easily block spam by installing a spam filter like Akismet for WordPress so you can moderate only those that add value to your post.
However, for non-WordPress bloggers, you can simply revamp your commenting system if you cannot manage the amount of spam your blog is receiving. You can use Disqus which not only blocks spam effectively but also has a voting system that lets readers vote the best comments. This creates for a more dynamic discussion about your post and mobilizes your readers to think for themselves.
Wrapping it up
Blog security is something that you should prioritize if you want your blog to succeed. You can never take a chance on your blog, now that cybercrime has gotten rampant throughout the years. By shoring up your blog's defense system, you can focus on developing your blog to greatness while you can sleep safely at night knowing that your blog is protected.