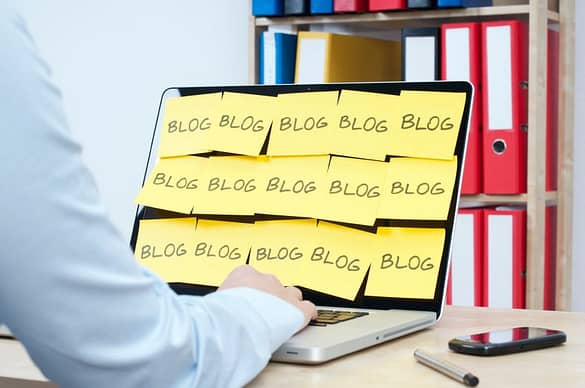 As online businesses take a more metric-oriented approach to promote their products and services, it has become much more ideal to use blogging as a platform to achieve their goals. According to Hubspot's State of Inbound 2014-2015, bloggers are 13x more likely to enjoy positive ROI (rate of investment).
If you're unsure on how blogging works for your business, below are five way how it can help increase your sales without spending as much compared to other marketing campaigns.
Drive lots of traffic to your site
The first thing that needs to be done when blogging for business is drive lots of blog traffic. This can be achieved by creating a content strategy as your blog's foundation. This also primes your blog for search engine optimization (SEO), which is a cost-effective way of getting more blog visitors with the help of getting at the top of search results.
In order to get there, you will need to determine your target keywords that you will optimize for search engines., which will be covered by the strategy you will build.
Following the best on- and off-page optimization practices will also help increase your chances of getting higher up the SERPs. Combine your SEO efforts with social media promotions and you could find your traffic spike up in no time.
When building traffic to your business blog, make sure to use reliable business hosting to avoid downtime and keep your blog running at top speed regardless of the amount of visitors coming your way.
Turn traffic into leads
Blog traffic is a hollow metric if you don't do anything with it. In this case, you can convert first-time visitors into leads for your business. A way of doing this is by building an email list using lead capturing tools and opt-in forms. This is so they can subscribe to your list and receive blog updates and newsletters from you.
Turn leads into customers
Once visitors have subscribed to your list, you can craft effective email campaigns promoting your products and services to them. There's a great chance that your leads will be converted into customers because they signed up to your list, which means they're interested with what you have to offer.
If you don't have products or services to sell, you can take cue from these ideas to make money online. For example, bloggers who specialize in a specific topic can turn their expertise into a writing service for those interested.
Turn customers into your community
Once you have turned visitors into customers, you need to encourage them to purchase more of your products and services. Launch more email campaigns for new items or services you have on sale. Also promote them by writing a new blog post.
Become an authority in your niche
Blogging for business is never always about making money. Another purpose that businesses launch a blog is to become an authority within their niche or industry. By publishing authoritative content such as evergreen content or long-form content using the Skyscraper technique, you can turn your blog into a valuable resource that visitors will bookmark on their browsers or save for future reference.
More importantly, you content will help establish trust between your business and your target audience. The more trustworthy you become in the eyes of your target market, the greater the chance of turning them into customers!
Final thoughts: Blogging for your business is beneficial in so many ways, which is why you should build one to build trust with your audience and hike up your sales.
More on blogging for business: