Blogging as a profession is tougher as it seems. Taking up one client for your blogging service may not pay much.
You can build your blog and generate income from it using different means, but the first few months will not be as profitable. It will probably take more than a couple of months to get your blog to earn the amount you want, and that is not even a guarantee.
Therefore, your only option is to peddle your blogging expertise to interested clients. While you will have to work on somebody else's blog, this pays much better compared to starting with your blog from scratch.
Your problem now would be to find the best blogging jobs from you. In fact, with the writing skills you possess, which is an integral part of being a blogger, you can also apply for jobs related to blogging such as social media, SEO, and more.
If you are having problems with finding blogging jobs to apply for, look no further than BloggerJobs.Biz!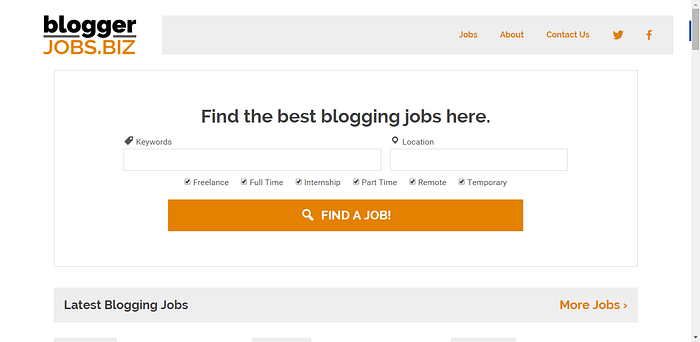 BloggerJobs.Biz is a job site that features the best blogging jobs online. It also collects the best writing for the day, ranging from technical writing to freelance journalism.
The best part about BloggerJobs.Biz is the Job Board that shows at least three of the best blogging and writing vacancies for the day.
Upon clicking on each job, you can read the description to give you a better idea of the opening. It also features additional information such as compensation packages, job schedule, and more.
The site divides the jobs in the Board into different types:
Freelance – Jobs found in this category are ideal for bloggers who wish to work for a client on a long leash. They will not enjoy the regular benefits that are privy for full-timers, but they have the freedom to take up more projects. This is ideal for you if you get bored with one job and want more work from different clients.
Full-Time – For bloggers who wish to work for a single, dedicated boss, they should for jobs under this category. Make sure that the full-time job opening you will be applying for is near your home to avoid long travel times from your place to work.
Part-Time – If your full-time work is not providing enough for you, then you ought to apply for part-time jobs found in this category. Depending on the setup of the part-time job, you can do it after your work hours so you can fill up the idle time to make the most out of your income.
Internship/Unpaid – College students will need experience for their credit to graduate. The internship jobs found here are perfect for those who wish to learn the art of blogging and online content writing. They can apply the things they will learn from the internship for launching a blogging career in the future.
Remote – Want to work in the comfort of your home? Bloggers can work the jobs featured in this category from a remote location whether from home or another place.
Temporary -Â If you want a stop-gap blogging or writing job to keep you busy, then you should consider applying for the jobs found here. Check the duration of the job you will be taking up on here to make sure that it does not overlap your schedule in the future.
Therefore, if you are looking for any blogging job, then there is no place else to keep on eye on than BloggerJobs.Biz.
Editor's Note: BloggerJobs.Biz is currently down due to technical issues. Rest assured that the management is on top of the situation and is working hard to resolve the problem. Thanks for understanding.