This is a guest post by Brad Leclerc. Brad is a writer for Cogniview, the leading producer of PDF to excel conversion tools.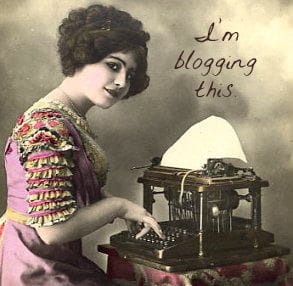 Traditionally writing was something people did while tied down to a desk. Whether using paper, a typewriter, or a computer, if you were writing, you were most likely at your desk. If you were away from that desk when you thought of a great idea, you'd have to take notes and reconstruct them into an article/story/etc later once you got back to that desk.
Thankfully that's getting to be less and less of a problem, which is extremely important with the explosion of blogging.
There are many ways to get some writing done from wherever you happen to be when you feel the need or desire to write. There are many ways to blog (or write anything really) instantly, from wherever you are. Each comes with its own advantages and disadvantages compared to going and sitting at that desktop system. Let's look at the three major ways people blog on the go…
Laptops
By far the most popular way to blog on the go, and also happens to be the closest to the desktop experience. So long as you have enough room to set a laptop on your lap or any convenient flat surface, and don't mind lugging it around with you (less and less annoying as laptops are getting lighter mind you…). Essentially this is like bringing a desktop with you. The main disadvantage of laptops is the space they take up, but if you want all the features, conveniences, and programs you're used to using on a desktop, then a laptop is the best option. One advantage that the laptop is quickly losing is the fact that it's no longer necessary to have access to desktop word-processing programs anymore. With the appearance of online "cloud" applications like Google Docs, that give you much of the same functionality from any almost any web browser, it's easier than even to avoid desktop word-processing programs altogether.
Cell Phones
More and more people are using their cell phones to blog. With the release of the iPhone and other smartphones this has skyrocketed, and will probably continue as they get faster, get bigger/nicer screens, and better keyboards. The greatest advantage of using cell phones for blogging is the portability. It's also a lot faster to pull out a cell phone and get to writing than it is with a laptop, and you don't even have to find a place to sit. This portability comes at a cost though. Cell phones are notorious for being horrible to type on. Even the iPhone, with it's great touchscreen isn't very well suited for anything longer than a few lines of writing at a time before it starts to get pretty annoying…or so I hear anyway. The web browsing experience is often not the best either, making getting that blog post up more aggravating than it needs to be. The most annoying way to blog in my opinion…though with the use of some software like JoikuSpot you can use your cell phone like an internet hotspot for other Bluetooth enabled devices, a great way to get that laptop online when there's no nearby WiFi connections.

Bridging the Gap
In between cell phones and laptops there are a wide variety of gizmos, gadgets, doohickeys, thingamajigs, and the like, with an aim to bridge the gap between laptops and cell phones. They tend to have slightly bigger/better screens than most phones, and far superior keyboards (hardware and/or software). For example, the Nokia n810 internet tablet (which I use as an example because I have one and love it), has a great keyboard for its size, and the web browsing experience, while a little sluggish at times, is far more suited to surfing the net than most cell phones, which seriously helps make blogging easier…and still fits in my pocket.
Using a combination of these and other technologies is key to blogging from any place and at any time, but if I had to pick just one I'd have to go with an internet tablet or similar device due to its flexibility of being ultra-portable while maintaining most of the features of a desktop that relate to blogging. But given the option, it's best to have something from all 3 categories so you're ready for any situation.
What do you use to blog when you're away from you desktop or usual workspace?