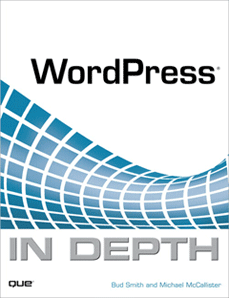 When I was initially offered the possibility to review WordPress In Depth by Bud Smith and Michael McCallister (@workingwriter), I was sceptic. First the title of the book wasn't disclosed by the publisher and when, a quick Google search brought me to an Amazon title by two for me unknown within the WordPress scene authors and heck, the cover even didn't have a WordPress logo.
Little did I know that I was about to discover a book I was going to recommend to people and even would become my new reference book for a certain group of WordPress users.
As soon as I had opened my review copy it was clear that this book promised to be a great book, covering most different elements of WordPress in a simple but in depth way.
Who Is The Book For?
As one would expect the book deals with all different elements of WordPress, walking you both through the different versions, wordpress.com and wordpress.org in a simple and very understandable way.
The book is divided into four parts. The first three parts walk you through using WordPress and are valid for both wordpress.com as the self-hosted software version. In the fourth part the reader is not only guided through the different parts of WordPress Extend but the authors also have a closer, and in depth, look at the structure of themes.
As can be seen from the index table at the right it takes 70 pages before you are told how to create your first post but by then you'll already have received an extensive insight in both the WordPress interface and several configuration options for your blog, the things you would expect from your average 'Technical Blog Consultant' who will charge anywhere between $25 and $100 to setup your blog and configure some widgets.
WordPress In Depth is clearly aimed at the beginner all while including little gems such as the Linking Strategy part on page 94-95.
Part 4: WordPress In Depth, The Truly In Depth Part
The fourth part of the book, which is aimed exclusively at self-hosted use of WordPress, is the real discovery and main reason to purchase this book. Where up to now the reader has been guided through every element of the WordPress software, from adding widgets to using the WordPress editor and often forgotten elements by users such as adding music files to your entries, Part 4 is the ultimate guide to themes and plugins for the beginner.
In this part you will not only learn how to tweak a theme but the insight offered by Bud Smith and Michael McCalister is enough to start building your own basic WordPress theme. This is also where you learn how to setup WordPress locally (Windows only), how to FTP and get a quick introduction to PHP and WordPress plugins.
What Not To Expect From 'WordPress In Depth'
If your WordPress knowledge has reached beyond 'understanding and knowing how to use WP' and you regularly use WordPress Tutorials or are a big fan of sites such as WPEngineer and WPRecipes this book is not for you but will merely serve you as a reminder of all the features in WordPress. Still, if you have an extensive WP book library and regularly lend out your books, you should purchase it as the 'ultimate WordPress guide for beginners'.
Should You 'Buy WordPress In Depth'?
In the same category as WordPress for Dummies by Lisa Sabin E. Wilson, WordPress In Depth is the perfect guide for the WP beginner and at $21.59 at Amazon (RRP $29.99, $14.09 for the Kindle version) will save you many hours of Googling or browsing through the WordPress.tv library to find the solution or guide for your question. If you considered hiring a WordPress consultant in the range of $25 -$100 (or more even) to install and configure your WordPress blog, you should buy this book instead and save your money.
WordPress In Depth is a must in any WordPress library and if you are new to the world of WP this excellent guide, which gets a solid 8.5/10 from me, should be top of your shopping list. Buyers of the book also get access to a free online edition of the book.
'WordPress In Depth' Book Giveaway
BloggingPro thanks QUE and the Pearson Group for offering three copies of the book to our readers.
To participate to the giveaway and win one of three WordPress In Depth books by Bud Smith and Michael McCallister, follow follow BloggingPro on Twitter (we will check) and leave a comment with your Twitter ID below or tweet about the BloggingPro giveaway.
This competition is now closed.
Winners
The books go to @swanpr, @heatheranne99 and @HSchiefelbein.