The Best Browser Add-ons for Bloggers and Marketers
The following are some of the best browser extensions for marketers to help them perform all blogging-related work with ease. Some tasks may include staying up-to-date more efficiently, being able to add images to Pinterest with the click of a button, saving important articles for later, and much more.
Let's dig right in.
Feedly
Feedly is a popular RSS and blog reader that keeps marketers in the loop about the latest news and industry trends. Simply plug in your favorite niche blogs and start learning something new everyday.
You can add an unlimited amount of sites, save any given page for later, send them via email, tweet them, and share your findings on social media.
Pocket
Pocket is perfect when there's simply no time to read something right away. Save content such as articles, videos and virtually any other type of information to access it another time.
You may also view this content from any device with no internet connection required.
Grammarly
While many online editors contain an automatic spell-checking system (such as Gmail) some platforms are meant to remain simple, providing no assistance to speak of.
Never feel afraid to post content filled with grammatical errors again. This extension adds a universal checker that analyzes and helps you correct content on practically any online platform. Examples include Gmail, Twitter, Facebook, LinkedIn, and much more.
Check My Links
Check My Links, as the name implies, analyzes all links on a webpage and informs you whether they are currently working.
This is highly convenient for bloggers who routinely write post roundups and post many links to external sites (this very article is a great example).
Marketers can also analyze other websites' links and inform their webmaster about potential problems. If you play your cards right, they can replace the broken URL with one that links back to your website instead.
Mozbar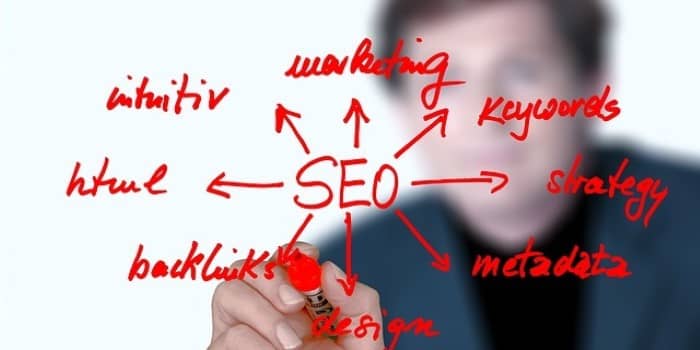 This is, without question, one of the best browser extensions for marketers and bloggers. It displays advanced metrics for serious business owners such as:
SEO metrics including domain and page authority
Custom searches based on engine, country, and region
Analyze a keyword's overall rank difficulty
Analyze advanced page elements
View key information for various social networks including Facebook, Google+ and Twitter.
Other features are also available, with even more advanced options for paying customers.
ShareMetric
Yet another metrics tool for every serious marketer out there. Show social media share counts, link information, overall search visibility for any given page, and other curiosities smart bloggers are constantly in need of.
Social media details include Facebook likes, shares, comments, as well as similar stats for LinkedIn, Reddit, StumbleUpon, Pinterest, and Google+.
Instagram
This browser extension lets you perform many important things without relying on your phone. You may browse your Instagram feed, keep in touch with your connections, like an image, post comments, and more.
This plugin provides a more unified experience for those who do most of the work on a typical desktop computer, helping you accomplish your Instagram marketing goals more efficiently.
RiteTag
RiteTag allows you to quickly find and add images/animations for your social media posts, removing the cumbersome process of uploading anything on your own.
Perhaps where this plugin shines is in its ability to suggest trending and relevant Twitter hashtags and insert them into your posts. Millions of hashtags are analyzed in real-time, helping you increase traffic with every Tweet.
Other useful features enable you to tag influencers with ease and inform them of your latest updates
Download for Chrome and Firefox
Pin it Button
At the end of the day, every plugin needs to revolve not only around usefulness, but also around simplicity. This is where the Pin it Button feature comes in, making it an essential browser extension for marketers and bloggers.
See an interesting image on the web? Click the button and assign it to an appropriate board. It's that simple. It's the perfect way to form a working relationship with your favorite influencers.
Followr
Followr's premise is pretty straight forward: Enter a set of keywords to search for within Twitter, and the extension will routinely "Like" (or favorite) updates based on said keywords.
As you "favorite" more posts, some of the authors will start following you due to your kind gesture.
Shady? That's entirely subjective and up to you.
All in all, this is a quick way to engage with content that falls within your blogging niche and helps you get more followers in the process.
Your Turn:
Did I miss any browser extensions for marketers that could prove useful? Feel free to post your own in the comments section below.