Most freelancers today reach out to potential customers through freelancing websites such as Upwork. Even through these platforms, attracting the best-paying clients can be tough even if you present the best cover letter or resume you can concoct. This is because high paying clients will not only look for writers – they will seek out experts.
If you want to prove your expertise, you are going to need more than just a well-written profile in freelancing websites. Instead of you bidding for projects, why not build a professional freelancing service blog site so clients will vie for you instead?
Here are the essential steps that you should follow.
Find the Best Domain Name
If you've written for SEO projects before, then you probably know that coming up with the best domain name is crucial when setting up a new website. In today's scope of SEO, a successful website must have a highly brandable domain name. It may also contain a relevant keyword, but it should not exactly be the same as your target keyword or phrase.
You can use Temok's domain search tool to come up with domain name ideas for your future site. All you need to do is to enter any word, phrase or name that you'd like to include in your domain name. You may also specify a domain name extension as you perform your search.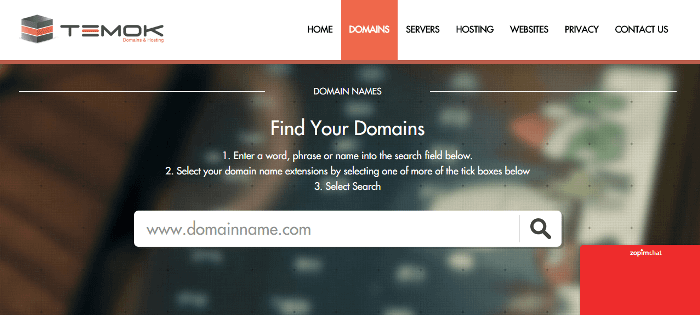 Remember that your domain name must be unique and will convey the right message. It must also be a name that your target audience will want to click on search engine results pages or SERPs.
For freelance writers, it may include your name, your area of expertise, or something that's related to writing. Do not rush this part and perform a thorough comparison of all the right possible domain names. Once registered, remember that you cannot replace a domain name and can only register a new one.
Use the Best Blogging Platform
After deciding your domain name, the next step is to find a reliable web host. There are plenty of economical web hosting services such as HostGator, NameCheap, and Temok's dedicated server hosting. Once your domain name is hosted, you should install a content management system or blogging platform to build your site with.
WordPress.org is clearly one of the most popular options for building a professional website fast. It is a very flexible blogging platform that can allow you to create beautiful and functional web sites without programming knowledge. Most of the customizations can be done through the dashboard, but experienced web developers can also modify the back end using HTML, PHP, and CSS.
To get started, remember that you can easily install WordPress on your site using an app like Softaculous, which can be found by accessing your hosting account's cPanel. You can start using WordPress by going to your dashboard. This can be accessed by adding '/wp-admin' to your domain name (for example, 'www.yourblog.com/wp-admin').
One of the main features of WordPress is the ability to choose between countless of customizable themes. For your freelance blogging site, you'll not have a theme that will showcase your writing skills in the best light. Here are some of the best themes you can use:
Create Landing Pages
One of the realities of new websites is that most visitors will bounce away from it. Instead of just letting your visitors go, you should create landing pages that can convert your visitors into leads, which can be turned into clients. Optimizing these pages is the key to making any site a lot more profitable.
To be effective, remember that landing pages may contain testimonials and should highlight your main value propositions. It should also have a contact/opt-in form and a strong call-to-action that will encourage your prospective clients to keep in touch or start working with you.
To quickly craft landing pages for your freelance blogging site, you can use page builders such as Landerapp, Instapage, and Landingi. While these tools are paid, you can take advantage of their free trial versions for the time being.
Develop Your Blog
After setting up your website, you should commit to writing new blog posts on a regular basis. This will help refine your skills, showcase your talents, build your credibility, and make your site more visible in search engines. If you have been leveraging a landing page to build an email list, then you should also write regularly to keep your brand in the minds of your leads.
To help you establish your editorial calendar, you can use a planning tool such as CoSchedule. This will help you stay ahead of your schedule and ensure that you never miss a date when you should be publishing blog.
Conclusion
No matter how the online market will evolve for years to come, there will always be a need for writers. Regardless of industry, companies will always require talented wordsmiths who can give their brand a voice. This is why established brands will be very careful when outsourcing a freelance writer or blogger.