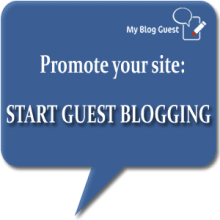 Last week I had the pleasure to announce the new My Blog Guest – Splashpress Media partnership and we are now opening some of our site for a weekly guest blog feature, also BloggingPro.
To guest post here at BloggingPro you will have to be a member of My Blog Guest and our own Andrew G. Rosen will deal with the submissions and schedule accepted posts.
What is My Blog Guest?
MyBlogGuest has been started by Ann Smarty, a fairly well-known weblogger and social media user. She's been guest blogging and building relationships in the blogosphere long enough to understand the power of a guest post – and that's what she wants to share via her little cozy web community. Read More »Guest Posting on BloggingPro