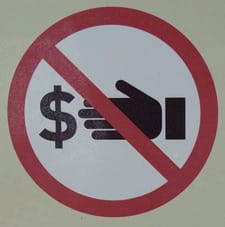 For months I have been receiving emails sent via the contact form of one site for Blogger Jobs. Dee covered the advantages of cold call guest posts in his SEO Sunday column and as can be read in the comments, although the cold call strategy can work, there certainly are disadvantages as well. Mainly for site editors and owners.
If I received a guest post from an unknown player in my niche, I would delete it almost as if it were spam.

My energy is better spent focusing on long-term relationship strategies as opposed to a few links.
As Barry Deutsch mentions in his comment, the yield of cold calls is very low and often it's a bigger waste of time on our end, because of the poor quality submitted, than for the application/submitter. This brings me back to the daily emails of writers interested in a paid blogging gig that land in my inbox. Let's start the week with a selection of how not to 'cold call' apply for a blogging gigs. The best of 8 months of email applications and yes it's a list. It's also Monday.
Words fail me. Maybe it would be a good start NOT TO SHOUT AT ME WHEN TRYING TO LAND A BLOGGING GIG!!!!!1!!!1
How to get started, how to land a blogging gig via an open application? That's the question. Maybe it would be a tip to at least submit a link to your to your website, call me old-fashioned but it makes things easier for me.
Now we have the issue of 'that link' sorted, let's move on and look at the kind of sites and info you throw at us when applying. If you are going to send me to a pink blog, your mugshot welcoming me in full real screen estate size (OK, I exaggerate, I don't have a netbook), how about first learning to use your keyboard properly. Apparently you have not discovered all keys yet, how do you expect me to offer you a gig and pay you for your art, knowledge if you even haven't discovered the [Shift] key yet? Let me help you, you can find it at both left and right side of most keyboards and you have to push it at the same time as you hit the key of the letter you want to capitalise. It looks like this.
Somehow your email still managed to tickle my curiosity. 8000 Readers, even on a blogspot blog, I should be dumb not to check out your site, right? I wished I never did, it would have saved you a listing in this entry. Do you really think that with 17 Blogspot followers your 8000+ readers are believable or did you want to tell me that your almost 300 entries have received more than 8000 views in total, over almost 3 years? You go, girl! NEXT!
Dearest Ashu,
Thank you for getting in touch and making me feel important. I could indeed do with a virutal assistent but you see… the issue is that I am not the best author. Just liek you I liek mudkips I am foreign and Engliss izn't me first language. Nevertheless I have discovered that my prefered internet browzer the habit has of decorating my entries and emails with red dotted liens. It's a spell cheque aid.
I hope that my virutual assistend lesz tipos makez than I do. Thank you for yer tiem.
This email went on for another 3000px but even before the 'Skills' listing started I had already fallen asleep. Suffice to say that this is the internet and there is no need to provide me with your full address details, your objectives, complete resume and I don't know what else you all planned including. Be short, concise and link me to your content. Don't make me fall asleep. If you can, capture my interest in Twitter alike style, 140 characters make you a better writer.
Dude, wouldn't that be lovely?!?! You just said everything I dream of and I will gladly send you an apple and an onion, I assume you meant onion and not opion, right? Sadly I do not think TSA and Customs will agree if I Fed-Ex you an apple, let alone an onion.
Who Did Make It?
According to Gmail I received more than 1100 cold call applications in almost 6 months. Six (6!) applications I shared with my editor colleagues, one person was hired and will soon start here on BloggingPro. And the winner is…
This application email is perfect: short, call me old but I do appreciate the necessary 'email niceties' and also included is a list of sites I can find entries written by Jennifer. If one, I would have loved to see 3-5 links to reference content but within five minutes after I replied to Jennifer, I received a good selection of links to published content: reference guest entries published on influential sites within requested niche, all without using (too) formal language. Jennifer will soon publish her first entry for BloggingPro.
That's it, folks. That's how to land, or not to land, a paid blogging gig and write for 16k subscribers. If you don't know how to contact site editors and site owners to at least tickle our interest with your 'cover email', you don't have what it takes to be a successful blogger.
You have 30 20 seconds to impress me with your initial email.