Quality backlinks will always be vital to your blog's long-term success, whether they're do-follow or otherwise. And while there are already hundreds of ways to gain website backlinks, it never hurts to cover a few more creative methods (some of these are relatively untapped).
Let's get started…
1. Do You Offer a Service or Benefit? Let it Be Known
Many blogs provide a certain service or benefit that encourages other bloggers talk about it.
Take BloggingPro's own job board, for example. A quick search for "Websites to find writing gigs" returns several list-based articles detailing the most popular places to find such jobs – including BloggingPro.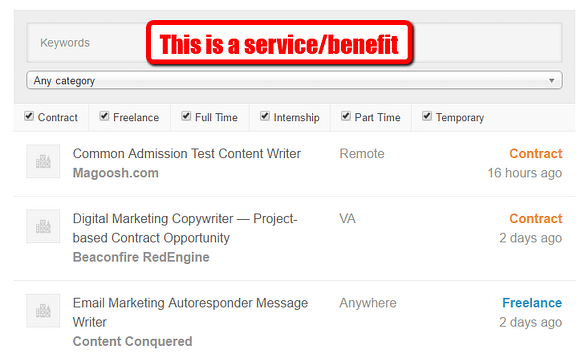 But don't just wait for someone to discover what you offer; contact these article authors and ask them to add your service to their existing list. Perhaps it's best to offer something in exchange, such as a mention/reciprocal link or a free account if your service is behind a paywall.
Other things you could email authors about:
Those with a list of "CommentLuv-enabled blogs" if your own site has the plugin installed. Simply search for "List of comment-luv blogs" or similar.
Authors with a list of "Websites that accept guest posts" if your blog accepts contributors.
Authors with a list of "Websites that pay" if you offer compensation.
All in all, you could easily gain website backlinks and targeted traffic thanks to some good old-fashioned networking.
2. Review Niche Companies and Brands
If you run a fairly popular niche blog, contact companies and offer to write a review about their services on your site. In exchange, ask for a reciprocal link on their end.
I have received numerous emails from niche services wondering if I could review them, so these people are definitely interested in some type of networking. It's up to you whether to charge for a review or simply write it in exchange for a backlink – but for the sake of this blog post, I suggest you focus on the latter.
The site in question may even feature you on their homepage, right under their "As See On" section or perhaps on their blog page. Negotiate with them about your preferences and don't be afraid to ask for the benefits you want.
3. Find Sources that Accept Previously-Published Content
This section warrants its own blog post, and perhaps I'll be visiting it further in the future.
Contact a list of sites that allow you to publish existing articles, whether they're conventional blogs or magazines. Chances are your blog has dozens of useful, lengthy pieces, so negotiate with the blog owner and see if you can become a regular contributor.
Some of these sources include Kingged.com, Listiller.com, and ElephantJournal.com.
4. Start Weekly/Monthly Contests
Let's face it: Contests are attractive. They can give your blog a sense of exclusivity and wonder that also helps elevate your authority. For example, BeaFreelanceBlogger.com regularly hosts an article pitching contest that has become immensely popular over the years. Isn't it time you started your own interactive game?
Offer a $50 Amazon gift card or cash every month. Keep the entry rules unbelievably easy, but highly beneficial for you. For instance, participants must share the contest page on their social media account and then post "some proof" in the main comments section of said page. This gives you both a backlink in addition to an active discussion.
Get creative with this and tweak the above to fit your blog and audience.
5. Create a Browser Extension
You're probably reading this and thinking, "Wait, I have no idea how to do this! I'm no developer!" Thankfully none of us need to learn a computer language anymore, due to gems like Fiverr and other marketplaces.
Take a look at this gig, for example, which sometimes offers the creation of an extension for less than $200 (depending on the job). Search for similar services and you'll be surprised with the work being offered at unbelievable prices.
The extension you create should, of course, be related to your blog niche (at least to some degree).
A quick look into this screenshot gives you an idea about this method's potential, especially if the extension is aimed at your overall audience. It shows the owner's website, along with nearly 600,000 users as of this writing.
The end-result will help you gain website backlinks (on the main Download page, and within the extension itself). It could also grant you a lot of highly-targeted traffic if you do your homework properly.
Pro tip: Be creative, but don't reinvent the wheel.
What Do You Think?
Are you practicing any of the above to gain website backlinks? Can you tell us about your results? Please leave your comments below.
Don't Miss: