Bloggers, writers and marketers are always looking for the easiest way to get things done. We live busy lives, after all, constantly dealing with social media, newsletters, and infographics, to name a few routine tasks.
I, for one, have consistently edited images since 2011 when I first started publishing books on Kindle. Although I am perfectly happy with the software I already use, it's good to always know of another source in case I ever need it.
That newest source came in the form of Desygner, a free online image editor (as of this writing) that allows you to create and modify graphics for virtually any project under the sun.
Supported Graphical Templates
Let's take a look at the main categories and templates Desygner offers: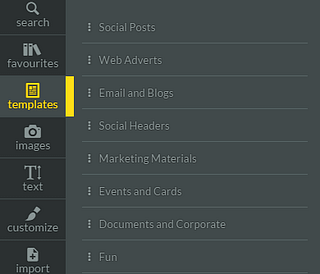 Social posts: Create images perfectly suitable to post on your favorite social networks like Facebook, Twitter, and others.
Web adverts: Running an AdWords or Facebook ad, for example? Desygner comes with multiple, standard ad sizes such as classic banners, rectangles, and modern sizes to fit your advertising needs. You can design an image-based ad in minutes.
Email and blogs: Create and edit multi-sized images that fit perfectly into your newsletter template and blog post, no matter what theme you use.
Social headers: I personally found this one highly interesting, as I have always had trouble creating a "cover image" that fits perfectly within Facebook, YouTube, and other networks. Desygner's templates are specifically designed for each network's minimum size requirement.
Marketing materials: This section offers various flyer templates, certificates, menus, posters, and other marketing formats.
Events and cards: Think of postcards, birthday cards, business cards, and everything in between.
Documents and corporate: This section lets you create resume templates, letters, and images that are appropriate for corporate presentations.
Fun: Lastly, here you can create funny certificates like "Best Dad Awards" and "Most Wanted" posters.
Overall, Desygner comes with many templates to choose from, so oftentimes you won't need to actually start a project from scratch.
This ambitious, free online image editor is a one-stop shop to create all kinds of visual art for your blog, social media pages and any other business – online and offline.
Images, Backgrounds, Stickers, Objects. Oh, My…
Having ready-made templates to choose from is great, but how could you get high-quality images to begin with? Thankfully, this is yet another area where Desygner shines.
They have a robust library containing thousands of royalty-free images ready to use and publish. Simply search, click the one you like, and it automatically loads into your current project.
I searched for images using marketing buzzwords such as money, success, and happy. The results were of high quality and were pretty accurate, overall.
You can alternatively connect to your social media accounts (including Facebook, Instagram, Flickr, Dropbox, and Google Drive) to import photos from there as well. Desygner is so powerful that it even recognizes PSD files, PowerPoint files, and imports elements from PDF documents. This is truly image editing at its finest.
All in all, there is a virtually endless amount of imagery between standard photos, high-quality backgrounds, stickers, and other decorative elements.
General Usage
First and foremost, let me get this out of the way: Despite the tool's vast amount of features, it is not actually overwhelming. This is thanks to a friendly layout that makes every option instantly recognizable and surprisingly easy on the eyes.
I was quickly able to switch from one category (template) to the next without having to start a new project, and this also allowed me to keep the existing image I was already using with the previous setup.
This free online image editor made my test project easy from start to finish, which is a very good thing when creating graphics. There were many filter options to adjust brightness, contrast, saturation, blur, and other standard attributes – all done with only a click or two.
Here's a side-by-side comparison of Desygner working its magic (click to enlarge)
I was easily able to place text of varying sizes on the image in question (title, subtitle, and body text) and could subsequently resize and move it to different locations with my mouse.
The text options also include many expected features, of course, including the ability to change color, size, rotate, link insertion, duplication options and more.
When I was finally done, I had the option to save my image to my computer as a PDF, JPG, or PNG file. Conveniently enough, I could optionally compress it as a zip file in the event my project's size was too big for storage or sharing.
Speaking of sharing, an alternative to downloading your image design is to share it via the most popular networks straight from the Desygner dashboard, send it via email, or even embed it into your blog.
Last but not least, the tool also allowed me to print it right then and there – a nice touch for offline businesses in need of flyers or those wishing to create any type of card.
Other Conveniences:
Thankfully, you are not necessarily stuck with your PC when designing a project. Ideas may strike anywhere, and for this reason, this free online image editor can be downloaded from the iTunes App Store and Google Play.
Another seemingly small, but terrific feature I noticed was the tool's ability to auto-save my creations. I have occasionally lost important work in the past, particularly due to my Web browser crashing at unexpected times. Needless to say, this nifty convenience can now put me at ease while I work.
One small complaint: Not every service is perfect, especially when it's packed with so many bells and whistles. So far, my only complaint revolves around image cropping.
WordPress has a cropping option that makes clipping images a breeze. You can normally resize a "squared overlay" across the image, then "cut off" the parts outside of that square.
Desygner, however, wouldn't grant me the same freedom that WordPress seems to easily provide, limiting the exact areas I wanted to crop — or at least making it more difficult than it needed to be.
WordPress example:
That being said, I am sure this will be looked at in the future and it's nothing but a very minor hiccup in an otherwise fantastic image editing tool. It is also possible that my complaint is more "user error" than technical error.
Final Thoughts
After analyzing this tool in detail, I can safely say you will hardly ever run out of options for all your image-editing and graphic design needs. Desygner is packed with features that are more than adequate for bloggers and business owners who lack the skills or the time for complex creations.
As I familiarized myself with each option, I became more motivated to make better use of my social media accounts and the very images I use on my personal blog. I tend to quickly pick a photo from various WordPress image plugins and call it a day. But we all know an image is worth a thousand words, so why not put in an extra five minutes and customize them in a way that better relates to my readers?
Desygner is a highly recommended graphic creation tool, and even if it doesn't remain free forever, you still owe it to yourself to give it a try sometime.