Elegant Themes has been synonymous with the best premium WordPress themes available. Known for their theme's advanced features and top-notch WordPress tech support, the site offers an unbeatable price that gives customers access to all its 87 themes.
Among the different WordPress themes for download, Divi has been Elegant Themes' flagship theme. The Divi WordPress Theme bridges the gap between function and design for non-designers who wish to build a beautiful website to promote their products and services.
This is made possible by the Divi Builder, a feature in the theme that lets you drag and drop elements from your theme editor to achieve the look and feel you want for your website, no coding required! Other features include pre-made layouts, responsive design, rock solid security, and more.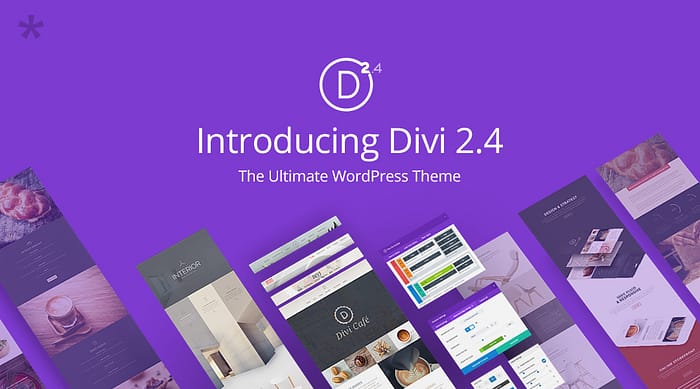 This past week, Elegant Themes have updated Divi by beefing up its features to deliver the best WordPress theme yet!
What's new with Divi 2.4
The fluid grid is the backbone of Divi. On top of the Divi Theme Customizer, the grid allows you to have full control of your site's appearance from this theme. Determine your site's content width, sidebar width, logo height, typography settings, and the other elements to achieve the look you've always wanted for your site. Not to mention, you can customize all these without any design experience – just set the figures and options from your dashboard and the theme will do the rest!
Thanks to the fluid grid, Divi now allows you to design their individual posts using the Divi Builder feature. Choose from featuring your content fullwidth or with either left or right sidebar, and have the option of showing your site's meta data and feature image on the post. The rich and elegant appearance and layout of your posts using the Divi Builder opens your readers to new possibilities of consuming your content.
Divi now includes advanced design options so you can fully customize the look and feel of your website using this theme. You can edit the typography, borders, spacing, and backgrounds, among other modules. To even get in depth with the design of the modules in your site, each has a Custom CSS tab to give you free rein on how they want the modules to appear on the site using CSS.
The Divi Library is a revolutionary way to build, save, and manage customized modules, row, sections, and layouts that you've created for your theme's design. Once you have saved these elements, you can use them again on another website using this theme.
This is advantageous to designers who plan on using the Divi theme to build their clients' websites. All they need to do is create folders in the Library to place custom elements for building specific types of websites (business, personal, photography, etc.). When a client requests for a specific design, designers can mix and match the modules from the Library when building the design as they see fit.
You have the option to turn items into a Global Item from your Divi Library. This way, if you have edited a Global Item,  the changes will apply on all websites where the Item appears.
The fullscreen headers is one of the six new modules available in the Divi Library (the others are fullwidth image, fullwidth post title, fullwidth code, regular code, and regular post title modules). This new module lets you create 24 layout possibilities to help supercharge your page above the fold and encourage your visitors to scroll down the page, if not heed to the page's call to action.
Liking Divi 2.4 so far? Get a chance to win this theme…FOR FREE!
Elegant Themes is kind enough to give 10 users a FREE copy of Divi 2.4 to boost their website's design and performance. Click on the image below to enter the raffle content!