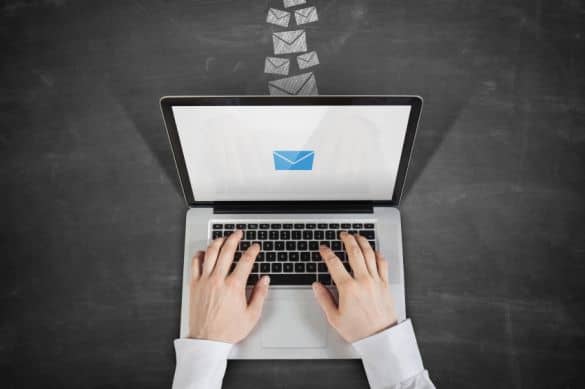 What is the biggest mistake that Yaro Starek, John Chow, and Jonathan Milligan have made with blogging?
According to this post, it's building an email list.
You may be wondering, "What will I do with an email list if I don't intend on making money with my blog or won't sell anything?"
The idea of a blog is to share ideas and make your thoughts known to a wider audience. Getting your readers to sign up to your mailing list will allow you to send them your latest posts straight to their emails.
Now that people are reading their emails more on their mobile devices (even spam), sending out updates to your email list helps keep your readers more engaged with your blog.
Later on, should you decide on making money with your blog, you already have an email list ready at your disposal. You can run email campaigns promoting your products and services for sale on your site.
Besides, building an email list is as easy as following the steps below.
Build a list with SumoMe
Placing the signup form on your sidebar may not attract the attention of your visitors. But a triggered scroll box in which the form will appear from the bottom of the page or an opt-in box that will appear on the middle of the screen will.
Both these eye-catching options for your mailing list can be achieved using SumoMe.
The widget contains data on the number of times the signup form appears on the page and how many signed up. This allows you to play around with other opt-in form design to optimize the performance of your list.
Promote your list
No one will sign to your email list if you won't share it to your audience. Simple things like writing a blog post about it and promoting the link on social media like Twitter, Google+, and Facebook should get you new subscribers to your list.
Launch an email campaign
There are lots of email marketing software to choose from. But if you want to keep things simple, you can manage your email campaigns using Streak for Gmail.
You can send your emails straight from your inbox and track the performance of each. Streak will show how many leads, demo, and closed won you have through your campaign.
If you're not selling anything at the moment, you can use your RSS feed to automatically generate content of your newsletter that will be sent out to subscribers. This way, you won't have to log in every time you want to add your latest post on the email.
You can do this using Nourish. Using this tool, create multiple RSS campaigns, manage subscribers, and deliver the latest content to their emails. Take out the emails you collected using SumoMe to send your RSS feed.
Schedule the campaign to be sent out every week (provided that you have new posts every week) so subscribers can receive your latest posts on the emails.
If you're promoting a product or service, you can create a new campaign and craft an email letter promoting and linking to your landing pages.
Additional tips
Create a responsive email template so that the newsletter is optimized when viewed on desktop or device
The secret to a successful email is a high conversion rate. This can be achieved by having strong copy on your email.
Learn the different headline strategies to increase click-through rate of your email campaigns.
Always look back at your campaign analytics. What is the open rate? How many clicked through the links on your email's body? Tweak your upcoming campaigns based on the gathered data to create better emails in the future.
Check out Foundation's excellent post for more email marketing tips!
More on building an email list: