A great friend of mine, Elena of DesignDisease has released another free WordPress theme called Evidens. It comes in both a white version and a striking black version.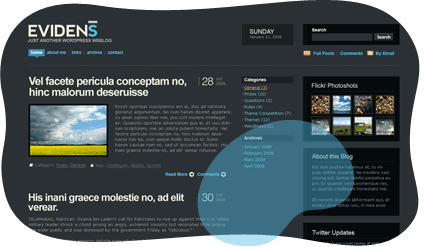 Evidens is a new 3 column, full width theme from Design Disease. Featuring both White and Dark variations, this modern/industrial theme is both elegant and edgy at the same time. The three column layout is perfect for adsense and text link integration. The design features ample space for your blog content, making sure you have room for the latest widescreen web video, as well as bright, beautiful images. Advanced options like Flickr Photostream and Twitter integration allow you to keep up with the latest social networking trends, and update your site's content anywhere, anytime.
The modern/industrial look of the theme gives it almost infinite versatility, making it a perfect fit for blog topics ranging from technology, men's interests, and even fashion design. Also be sure to check out PremiumThemes.com, a new project from Design Disease.
Released in the middle of last month, the Evidens theme already has many fans using it, and it is easy to see why. As the designer of many amazing blogs, including this one, Elena has a style that is very recognizable, and modern. Check out the Evidens theme today.