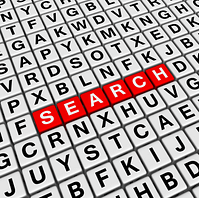 Whether you're starting a small business blog or simply looking to improve your search engine optimization (SEO) efforts, think keywords. Actually, think specific keywords. Many bloggers don't realize that finding the right keywords is the key to getting on the top of that search engine page. If you are hoping that when people search for the word "clothing" they are going to see your website at the top of Google, think again. When you type in "clothing" to Google, 1,970,000,000 results pop up. In other words, even if you're trying your hardest, you're not going to make it to page one unless you have a few years to spare.
When thinking about search engine optimization, your time is best spent coming up with the right keywords to target. This may seem easy at first, but there are actually quite a few steps a blog should take before putting all of their resources into one keyword.
Finding the Right Keywords for Your Blog
Keyword research has typically been utilized by large corporations and business websites, but bloggers can also get in on the action. Google does not say that only businesses are allowed to be on the top of search engine pages, so it's important your blog makes an effort for the top spot. Consider a few of the steps needed to help you understand keyword research:
Step #1: Target Audience
The first questions you need to ask yourself deals with your target audience. It's extremely important that you think like your target audience as opposed to thinking like yourself when finding the right keywords for your blog. You must first know who your target audience actually is, and then you need to think like they do-consider different ways to say the same thing, consider geographical related searches, etc.
Step #2: Head Terms vs. Tail Terms
It's important to understand the difference between head and tail terms. Head terms are usually only one or two words (ex: clothing), yield a high search volume, but are more difficult to rank. Tail terms are completely the opposite. They usually consist of three or more words (ex: women's plus size clothing stores in Atlanta), yield lower search volumes, but are less competitive. There are advantages and disadvantages to both, but in general companies should choose two-thirds tail terms and one-third head terms. People who are ready to buy are usually typing in tail terms, so in the end you're more likely to do well in the tail terms category. As you can see from the chart on the right, Marketing Profs proves that tail terms statistically yield better results.
Step #3: Double Meanings and Relevance
You will want to make sure that the keywords you have chosen cannot have double meanings. For example, if you have a keyword like "travel" you need to consider "time travel" and "space travel" as possible reasons someone may be typing in the word "travel." It seems silly, but this happens more often than you may realize! You will also want to make sure that your keywords are totally relevant to your site. If you think one keyword is going to get a lot of traffic, you shouldn't put your resources into targeting it if your website has nothing to do with it. This may bring someone to your site, but they will quickly leave. You also run the risk of getting in trouble with Google if you try to pull this stunt.
Step #4: Check Search Volume
After you think you've created some good, specific keywords, it's important to run them through a keyword tool. One of the most popular keyword tools is Google AdWords. Whatever tool you decide to use, your goal is to make sure that the keywords you have chosen get search volume. Below is an example of a possible keyword for a Chicago restaurant. You will want to make sure that the trend is moving upwards and that the keyword has a high search volume. In this case, the keyword "Chicago Illinois restaurants" is likely to be your best bet!
Step #5: Consider the Competition
You will want to take the keywords you're considering and type them into Google to check out the top results. You will want to check the age of the domain by using Whois Source, the number and quality of backlinks, and their Google PageRank. In general, an older domain with a lot of quality backlinks and a high PR means tough competition. This is something to consider before working hard on ranking a specific keyword.
Although it may sound like a lot of work, choosing keywords to target is actually pretty straightforward. You will certainly need your marketing team up to speed on how to find good keywords because it is time consuming. Getting ranked on a Google search page takes time, so don't be discouraged if your efforts don't show up right away. If you follow these steps above, you're sure to get the results you want in good time.
Photo Credit: ryanchaffin.com, seoservicesgroup.com
Amanda DiSilvestro is a writer on topics ranging from social media to credit card processing. She writes for an online resource that gives advice on topics including document software to small businesses and entrepreneurs for the leading business directory, Business.com.