Editor's Note: This post was written by Camille McClane, a writer, researcher, and editor, who frequently blogs about about web hosting and social media. Her favorite subject to focus on is emerging technology trends and its overall effect within business expansion and health relations. 
Social media is now the optimum marketing platform for businesses large and small; companies already thriving and those that are just starting out. Take it a step farther to social media applications available for smartphones and your business has found it's way into the very hands of its future fans and clients. Businesses using smartphone applications like Instagram, Flickr, Vine, and more for blogging and updating about what they're up to, are breaking down the barriers of social media marketing and keeping up with current trends.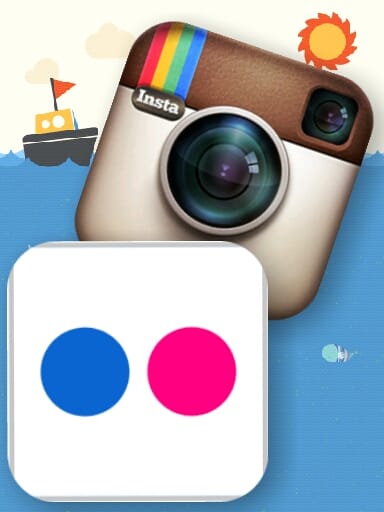 Image Courtesy of Arimalik Ibrahim at Flickr.com
Just a week ago, Flickr 3.0 was introduced to the photo-sharing social media public. Yahoo's new smartphone app has officially entered the ring of smartphone apps that literally everyone has some connection to. Flickr 3.0 is a complete redesign for iOS and Android, allowing Flickr users to browse, share, edit, and store photos easily on their smartphones. While Flickr 3.0 is similar to Instagram, which application is better and why? You'll find all the answers here.
Photo Specs
The revamped application mimics Instagram in design and functionality, yet offers a more in-depth perspective of each of your photos. While Instagram can be commended for its simplicity, Flickr gets a thumbs up for providing specifications you can learn from.
While you can't see the specs on other users photos, you can certainly keep track of what camera you used, the shutter speed, aperture, focal length and more.
Flickr created wireframe drawings for 57 popular cameras that appear at the top of the info page.
Video
While Instagram only lets its users show off a 15 second video, Flickr allots up to 30 seconds.
There has been some speculation that Instagram chose the 15-second video allotment for a very specific reason, however Flickr doesn't seem to have any plans to barrage its users with advertising.
30 seconds of video allows users to get creative with their editing. More time means more techniques can be used for each clip.
Image Courtesy of Thomas Hawk at Flickr.com
Editing
You have more options for editing photos than ever before. While the brightness and filter is just about all you change on Instagram, you can change just about anything on Flickr.
You can edit your photos using a wide variety of editing tools: white balance, exposure, saturation, brightness, and contrast are just a few to start with. You can also play with color balance levels.
There are less options for editing videos, however you can apply similar filters to a clip as you would on Instagram, as well as choose a segment or pieces of a video to post.
Even though Flickr automatically crops your non-square photos, you can still see the entire image with a tap of the finger.
If you want more editing options on Instagram, you have to download a separate app, which sort of destroys its ease-of-use agenda.
Privacy
Unlike Instagram, Flickr gives you more control over your privacy settings. You can choose your settings per posted photo instead of having to determine a blanket setting for all of them.
Instagram only gives its users a couple options: you can either make your entire profile private, meaning you can choose who sees your profile, or you can choose public, meaning anyone can follow or view your profile without your approval.
Organization
Flickr 3.0 is a simpler smartphone version of the online photo-sharing service, meaning you can still create albums to organize the photos you take or upload on your phone.
Instagram does not provide any higher level form of organization. If you want to organize all your photos from your most recent camping trip into a separate category, you're out of luck.
While Instagram has an online counterpart, it's well behind Flickr's site as far as copyrights and a gorgeous platform for showing off your photos.
Lastly…
When you search for photographs on Flickr's app their entire library is available to see, including photos taken with more advanced cameras, not just smartphones.
Flickr made a smart move to keep up with today's photography behavior of taking quick, instant photos to be shared immediately, however their photo specs platform that gives recognition to different types of cameras should encourage users to keep clicking away with not just their smartphones, but with film cameras, too.
Flickr offers everything Instagram has and more. The only drawback to having a Flickr account is that the company requires you create a Yahoo account. Previously, you could sign in using Google or Facebook, but those days are long gone. However, creating a yahoo email address that you'll likely never use anyway is not that bad of a trade off for getting to use all the application's features.
If you're a die-hard Instagram fan and reluctant to switch, or you're interested in using both apps, here are some helpful tips from Gryffin Media on how to fully take advantage of everything Instagram can do for you.