In the world of web design, not every theme is created equal. WordPress themes for writers make it easier for readers to follow your blog without many distractions, giving you a highly loyal fan base over time depending on the content you publish.
While such themes can theoretically be used for multiple purposes, writers may find them convenient due to their minimalist design and the SEO benefits that come from their quick-loading structure. Let's look at some intuitive WordPress themes specifically designed for writers and avid bloggers who are highly focused on the written word.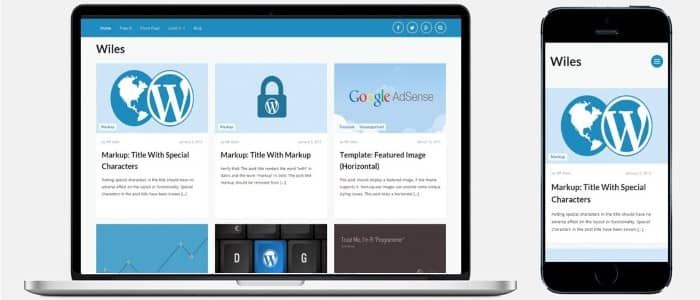 Though Wiles is a multi-purpose theme, it is ideal for freelance writers with a highly popular business due to its impressive SEO options and overall speed. It features three columns, beautiful colors that makes your copy stand out, and it's fully responsive to match all standard screen resolutions. Overall, I highly recommend it if you are in the writing, editing or general blogging business; the Wiles theme wears many faces, and all of them perform an excellent job.
I find Themia perfectly suitable for writers due to its versatility. You may easily customize it either for personal or business use; writers selling their freelance services have options to attract and connect with clients, while bloggers will appreciate its easy-to-handle design settings such as full-width template, quick logo switching and more.
There is nothing in particular that makes Desk Mess stand out, but writers may find its design soothing as it resembles a real-life, typical desk. It is messy with various items such as pens, papers, a cup of coffee and other objects writers are intimately familiar with. Other than this, Desk Mess features your standard set of options to fit bloggers who do not specialize solely on freelance writing.
The Just Write WordPress theme prides itself in a minimalist design to prevent distractions and unnecessary fanciness, making it a good choice for writers to do what they do best. It provides a primary menu where you can categorize your services or contact information, as well as a left sidebar to feature your latest announcements. This theme might be just what you need if you are not looking for excessive features as an aspiring freelance writer.
WordPress theme primarily designed for writers who are serious about their business, such as song writers and related service providers. It supports over 200 Google fonts and several pre-defined color schemes for virtually endless customization. Instead of forcing you to include your contact details on a proprietary page, it allows you to enter it in the header or toward the footer. Depending on your freelance services, it has great support for ecommerce options and currently supports multiple languages to ensure you reach a wide audience. What's not to love?
SlimWriter pushes everything aside and keeps your readers truly focused on content. Its primary navigation menu is positioned at the very top, making your articles the main center of attention. The font is also a simple yet elegant choice that gets your point across without looking overly fancy. Good WordPress theme for writers in need of something new, yet familiar to suit their publishing needs.
Simply put, the Writer WordPress theme is unconventionally beautiful. Its author has purposely left out everything typically found in a theme such as menus, widgets, pages and a search function. What you are left with is a beautiful, clean interface that's 100% focused on typography. While the lack of a search bar remains questionable, at least you can expect loyal followers to read every post with their responsive, undivided attention. What do you think of this one?
Are you using any of these WordPress themes for writers and highly proficient bloggers? Tell us your thoughts in the comments section.
Also don't miss: