As a blogger, you are effectively a business owner. This means that you should hang out where your audience likes to be as a way to form new professional relationships, grow your traffic, as well as your income.
This is where LinkedIn and its features come in.
LinkedIn members are primarily niche professionals that fully understand and appreciate business opportunities. They generally have money, and the ones that don't are typically willing to make an effort if it means improving their status.
LinkedIn groups, more specifically, is where these people love to shoot the breeze and find new sources to improve their end-game. This effectively allows you access to highly targeted people who are serious and hungry for your content.
Without further delay, let's look into the best ways to get traffic from LinkedIn groups.
Join Two or More Niche Groups
Most bloggers know the importance of creating a niche blog, as it primarily helps attract an audience with very specific interests. Similarly, LinkedIn groups with thousands of like-minded people are essential to your success.
To search for a new group, simply type in your desired keyword into the LinkedIn search bar, then sort by "Groups" from the panel on the left. Click "Join" or "View" from the group you would like to become a member of, and wait for approval.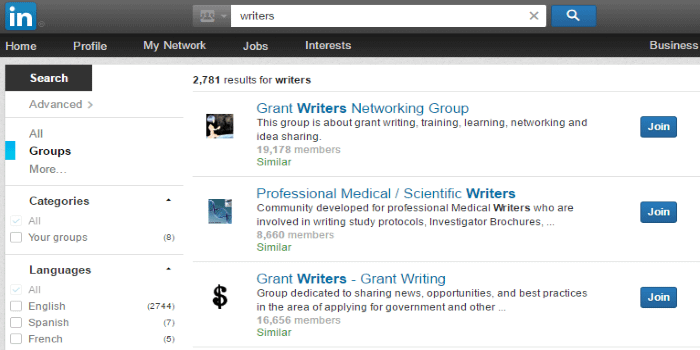 Be Picky
Refrain from joining dozens of niche groups thinking that more is better. This will only divide your attention and ultimately overwhelm you.
Instead, go for a handful of groups that have at least 10,000 active subscribers. This number is entirely subjective, but it's better to join fewer groups with more members than having to participate in too many of them on a daily or weekly basis.
Analyze their Usefulness
Once accepted, analyze the overall engagement and level of interaction within these groups. Are people contributing often? Are they posting useful content and obeying the rules? Is the group owner actively involved and moderating it?
It's important to join a well-maintained group because it essentially weeds out the bad apples and leaves you only with high-quality members. If you don't feel comfortable with any given community, drop out and replace it with another.
Get Involved
Just to be clear: Getting involved does not mean spamming the group and dropping your links hoping for the best. Instead, become a valuable member by posting helpful topics and answering questions you are familiar with.
The most important part is to remain consistent by not disappearing for several weeks on end. Turn this into a daily habit and contribute while drinking your morning coffee or while watching a television show. However you decide to tackle this task, make sure you stay involved long-term.
Promote, But Not Much
You know how this one goes, but I will throw it out there anyway: Post non-promotional (and helpful) content 9 out of 10 times, and your group's members will love you. This is where getting traffic from LinkedIn groups comes into play.
Say that you joined a group with 25,000 active members. You consistently provide useful information and are generally helpful. When you finally do post a link to your own website or property, people will already trust that you provide nothing short of great value.
Considering these members respect and value your input, you can safely expect a good engagement rate as a result.
Create Your Own LinkedIn Group
Joining an existing group grants several great benefits, including the fact that you'll already have access to a large, niche audience almost from the get-go.
When you create a new group, however, you get the glorious benefit of sending out emails that reach your followers' real email accounts. It's like creating a hyper email list of members who know you a bit better thanks to your daily posting and sharing habits.
To create a new group, click on "Interests>Groups>My Groups> and finally, "Create Group." Fill out all required information, and you are ready to go.
I suggest you send out regular emails (perhaps bi-weekly) linking to useful member posts, as well as your own. It's the perfect way to keep everyone happy and fully acknowledged.
In addition, you have a better sense of control because you're not playing in "another person's playground" but rather on your own.
From this point forward, connect with niche members and consistently invite people to join your new group.
Final Thoughts
Getting traffic from LinkedIn groups is a bit of an art and a science, but thankfully it's all very manageable with the right mindset and approach.
Many bloggers are aware of LinkedIn groups, but not everyone has taken the time to truly leverage their potential. The key component here is to treat them just the same way you would handle your own blog and newsletter campaigns. Make them a part of your daily management; your hard work will soon pay off.