Great Chrome Extensions for Writers and Bloggers
Let's face it: Blogging and producing content on a daily basis isn't easy. Even if you don't compose an actual article everyday, chances are you're still emailing and typing endless paragraphs on sources like Reddit, Facebook, or commenting on other blogs. You may otherwise be researching and connecting with fellow writers/bloggers as part of your daily work routine.
To make these responsibilities just a bit easier, here are some of the best – and most reliable – Google Chrome extensions for writers, marketers, and general bloggers.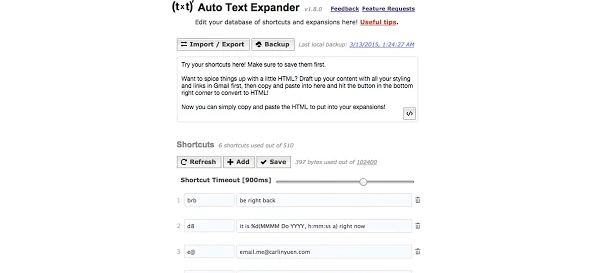 Do you use certain phrases regularly and/or hate having to type a word because it confuses your fingers and your brain? (I still have trouble typing "rhythm")…
This extension lets you configure keyboard shortcuts for any given word or even a whole sentence. If I need to type that I'll be at the gym from 12 noon until 2pm, I can simply type "gym" and the app does the rest.
Here's a Chrome extension for writers that could actually save everyone a lot of time…
Highlight a word (by double-clicking it) and its definition will magically pop up. You can even click the small speaker icon to hear its pronunciation (available with most common words). Use this to learn something new everyday and implement it into your content creation routine.
Creative people often think of great ideas without even trying, and they need to write them down pronto.
This app lets you take quick notes and sync them across other devices seamlessly. You may also configure the font size and the text area itself. How cool is that?
Serious content writers and marketers know the importance of staying in touch with Twitter followers and the topics they care about.
TweetDeck allows you to see your account's main activity, any mentions of your username, direct messages, who followed you, and other options from one convenient location. You may customize it further by searching (and following) specific hashtags and events. Now there's no excuse not to interact with potential followers and influencers.
While the quotes in this extension are rather random, you can still find ways to insert them into your writing – perhaps while telling a story or making a point.
An alternative to this one is New Tab Startup Quotes, which shows you more business-related phrases for extra motivation.
This is perfect for freelancers and those who regularly collaborate with others online. This tool makes managing PDF documents a breeze, especially when e-signing. Here are some of the main options:
Add, underline, and strikethrough text
Add comments
Voice annotation
Insert shapes and images
Insert signatures (no more printing out, signing, then scanning)
Share it with others
Works as a regular PDF viewer
Yes, we have plenty of distraction-free writing tools already, but you might want this one due to, well, being so easy to launch from your browser.
Writer saves your work automatically, it works offline, lets you change the background, set custom fonts, store unlimited documents, supports writing goals and word count, and exports to text or PDF.
It's a nice companion to the aforementioned Notepad extension, if you ask me…
I was never much of a reader, and that makes SpeakIt! an ideal browser extension.
As the name suggests, simply highlight a paragraph and let the extension read it out loud while you sit back and drink your morning coffee. It supports many text-to-speech engines (some better than others) allows you to adjust the volume, and even change between female/male voice.
While I normally rely on Todoist for all my daily and weekly tasks, TickTick is perfect for those looking for a simpler, yet reliable to-do list manager. Let's look at some of the main features:
Sync all tasks across all your devices
Set instant and recurring tasks
Rearrange their order
Add notes and comments
Create sub-tasks
Archive completed tasks
Organize them into folders
I consider this one of the best Google Chrome extensions for writers and general freelancers, as it essentially holds you accountable and makes work a bit more fun.
Final Words
I'm just scratching the surface here, as there are many more Google Chrome extensions for writers and bloggers. Can you suggest your favorites?
Don't Miss: