Google answers, rich answers, rich snippets, or answer boxes – whatever you choose to call it, these bits of information are quickly gaining traction and drawing every blogger's undivided attention.
In case you haven't noticed, these refer to summarized answers that address a straight-forward question at the very top of Google's search engine results.
Perhaps you have seen a few of these while searching a common question but never paid much attention as a general internet user. From the eyes of a blogger and marketer, though, you might want to consider jumping in the race for your content to be featured in this "position zero" spot.
As these summaries often provide a full answer to a question, some marketers argue that this would reduce their website's click-thru rate. However, Google also provides a link for users to read more; considering your content is in the top position, it's hard to argue of this being a losing battle.
Let's look at some Google Rich Answers optimization tips – in randomized order – to help your website's content be considered.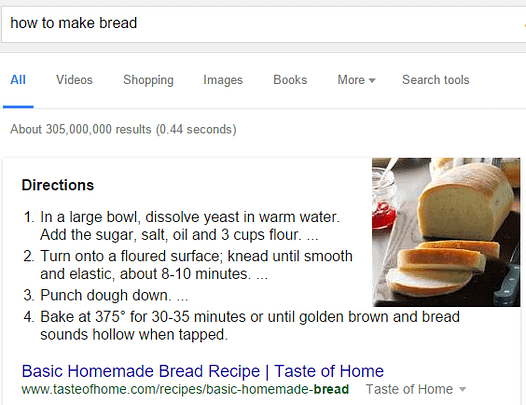 Authority Matters, But Fear Not
Some observations dictate that certain answers have derived from less-than-authoritative sources; that is, you don't need to be a well-known brand or a government entity. However, relatively high user engagement and decent bounce rates increases the chances of success. As this has been a mixed bag, your priority should still lie in turning your website into an authority source nevertheless.
Structure is Key
Your answer should address the question directly without fluff. Include a step-by-step procedure if appropriate, or use bullet points to help users, answer reviewers and search engines distinguish each step with ease.
Answer Common, But Complex Questions
The answers that appear on Google Rich Answer Boxes are often simple in nature, and your website may very well be picked and featured. The problem, however, is that focusing on overly common questions raises your competition. It's a lot more convenient for anyone to answer, "What is a 3D printer" than to answer, "How tall was John F. Kennedy." Be the one who dares to step up to the challenge and focus on answers that not every blogger is willing to research.
Example: How to register to vote in Florida…
Think Outside the Box
You should obviously focus on the five Ws: Who, what, where, when, and why. However, your search for questions shouldn't stop there.
You may also need to think outside the box and consider consumer products. "Can I stream videos from my iPad?; Does the Samsung Galaxy S7 support XYZ?" Consumers usually have many curious questions that are not necessarily answered by the manufacturer or are not easily found.
Also think of new video games and how to accomplish a certain goal such as, "How to defeat the Shadow Dragon in the Forest Temple."
Use Helpful Resources
You don't necessarily need to reinvent the wheel to come up with questions. Yahoo Answers, Quora, and JustAnswer are but a few of many Q&A websites where you can gather question ideas. Since those sites' contributors don't always have these Google Rich Answers optimization tips in mind, you have the upper hand by structuring the answer better than them.
Also consider Google Keyword Planner as well as UberSuggest.org, which gathers commonly-searched phrases (including questions) from the Google Suggest/Autocomplete engine.
Use Standard SEO Practices, and then Some
Include the question in < h1>heading, then include it again within the answer. While it's not clear that a feature-rich page increases the chances of success, it wouldn't hurt to include helpful sources such as an infogrpahic or a video (in addition to the structured answer) as a way to provide more information.
You may then give a more thorough answer below, but only after summarizing the main points and answering the question succinctly.
Keep User Experience in Mind
This includes building a mobile-friendly website, including a relevant image and helping the user with optional resources for further reading (especially links to third-party, authoritative sources).
Final Thoughts
This whole concept is still evolving, and bloggers still do not have a clear grasp about this intriguing search engine feature. That said, the above Google Rich Answers optimization tips should help you get started and gradually improve your website by analyzing what gets picked, what doesn't, and why.
Do you have additional strategies? Feel free to share them below.
Also don't miss: