As freelance writers, we are concerned with getting lots of clients for our writing services. Aside from setting up a portfolio site and promoting yourself on social media, the most important tactic to drive more interests to your services is to write error-free articles. As a the saying goes, the proof is in the pudding.
However, as a writer managing different clients all at once, it may be against your time to sit down and review the works you have written before submitting them to clients for approval. While this may be true, not editing your works can lead to your downfall as a freelance writer. Focusing on the quantity of written works instead of quality is not a very smart way to build your freelance writing career.
Considering that Google puts emphasis on well-written and informative content, you should also observe this in writing your articles to gain more clients in the long run.
If you feel stretched out as a writer and wish to automate the editing process so you can focus on writing more, one of the tools available for use is Grammarly.
Grammarly is a grammar checking tool that detects errors in your writing to ensure that you submit articles that are in tip-top shape. You can sign up for a free account to enjoy some of its features (grammar checking, contextual spellchecker, and vocabulary enhancements).
In this post, however, we will review the Grammarly Premium and how freelance writers can benefit from using this tool.
The situation
Let us apply the tool to one of my writing assignments. I was tasked to write a post about the different sites where artists can sell their digital works. After sending the article for review, however, it was returned to me for a few minor revisions.
Instead of running down the post for errors, I decided to use Grammarly Premium to see how useful this grammar checking tool is.
I logged in to my Grammarly account uploaded the document file for review. Upon opening the file from the dashboard, here's what it looks like: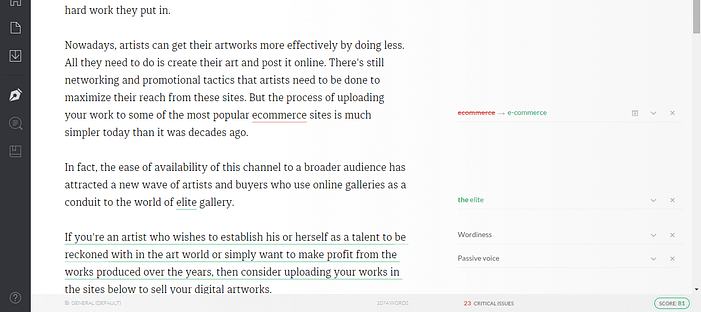 The errors have red underlines in them, and the explanation for the errors are on the right side.
There are errors like preposition choice that you can correct by just clicking on the right preposition. However, there are some mistakes that are much more complicated. Therefore, these errors must be manually edited to achieve the correct sentence composition.
You can expand the explanation of these types of errors to get a better understanding about how you can correct them.
Below the page is an indicator of the number of words and mistakes in the document, as well as the "score." The fewer errors in the document, the higher the score.
Once you've eliminated all the errors in the article, you can click on the score to see the summary of the article. An option to download a detailed report of the review to submit to the client alongside with the article is also available.
While these features are not that too impressive as opposed to other grammar checking tools like Hemingway, what sets Grammarly apart from the rest is the Document Type feature. Choose the kind of article you are writing, whether it is a blog post or a novel, and reveal more errors!
Other cool features included in Grammarly Premium include the Plagiarism Checker to make sure that your text will not have exact matches from over 8 billion pages. The Vocabulary Enhancement helps you diversify the words in your article, so you will not have to use the same terms again and again.
The pricing is reasonable, all things considered. There are cheaper (if not free) grammar checker tools out there, none of them offers the jam-packed resources found in Grammarly Premium.
Verdict: While there's no replacing a human editor, Grammarly Premium comes very close to doing so. With its comprehensive features to help you write error-free posts for your clients, Grammarly Premium cuts down the editing time so you can focus on writing more articles.