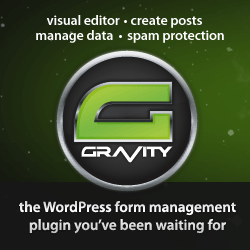 Before I started using Gravity Forms I used a whole array of plugins to provide me with different kinds of functionality surrounding forms. So when Gravity Forms was introduced I naturally was curious how this one WordPress forms management plugin could solve all my problems.
After having installed and activated Gravity Forms, the first thing you notice is the Forms Menu added to your WordPress Dashboard. Usually when you're thinking Forms you tend to think only 'contact form', but Gravity Forms can do so much more. Gravity Forms supports a lot of features but I'm going to focus on a few specific ones.
Conditional Form Fields
Email Notification Routing
Form Scheduling
Allow users to Automatically Create a Post
Creating Forms with Gravity Forms
Gravity Forms enables you via a very sleek interface to build your forms just the way you want them. Simply by selecting the type of field you want to add be it a Drop Down menu, a Paragraph Text, a Checkbox, you name it. There's a couple of standard fields you can use, but what makes form building great with this plugin, is every field you add to the form you are making comes with a bunch of settings you can use to tweak the field to behave exactly the way you want it to. For example the Drop Down field.
Typically you normally only use about 4 to 5 items for a drop down field in a form, but what if you already have a list of 15 items you want people to choose from but you don't want to have to punch in the data one by one? Gravity Forms has provided a Bulk Add/ Predefined Choices option which basically allows you to paste your list of choices into and when you close the Drop Down field you are working on all 15 of those choices are automatically added to the drop down menu.
Next to the standard fields Gravity Forms also provides a couple of Advanced Fields such as Name, Address, Date, Website and reCAPTCHA. Using these fields is just as easy as using the standard fields. Just by clicking on your field of choice you add it to the form you are creating. This process is a very visual process so you immediately know what your form is going to look like. These advanced fields are predefined fields in the way that if you were to add the Address field you actually get all address associated fields added to you form instead of the actual address:
The last set of fields you can add to your form are Post Fields. These fields allow you to create a form that allows your site visitors to submit a post to be posted on your site. Of course, you as admin still have to manually approve the submission but it works perfectly. You can even use this feature together with the awesome Members plugin by Justin Tadlock to create actual role management integration.
When you're done adding fields to your form and having configured those fields all you need to do is save your form and you will then be asked to setup email notification.
Conditional Form Fields
One feature I was very curious about is the ability to show fields depending on the value of another field. This enables you to build your forms dynamically and giving you a lot of flexibility in your desired form workflow.
It's a feature like this that allowed me to use a rather complex form with a lot a choice look like a a very simple and still elegant form. The only thing I am missing in how this conditional logic could be used is using a paged form so to speak. Not sure if I missed it but this sure would help in building those larger forms and not take up a lot of space.
Email Notification Routing
The email notification routing feature makes it possible for you to define different recipients depending on certain values you define. For example I created a contact form where the depending on the values in the drop down menu the message would either go to administration or the sales department. All it took was for me to define the Routing option in the email notification with the proper email addresses. Something I normally would have needed two different forms for.
Form Scheduling
Recently I was asked to build a website for the local community I live in that would require forms every time people could sign up for an event. The form scheduling option in Gravity Forms allows me to create and enable a form from a given start date and end date. A great solution because this meant I wouldn't have to worry about having to take the form down. You can even define how many submissions a form can process. A great way to 'educate' a neighbor to respond in time I can assure you!
Allow users to Automatically Create a Post
Last but certainly not least Gravity Forms makes it possible for you to create forms through which your site users can create posts without them having to log in. With the afore mentioned Post Fields you can add all the necessary fields to your form. What I have used this feature mostly for is creating forms that allow users to submit their reviews which later will be published posts in a review category.
More Features
Like I said before I am not going to review every single feature here, but there Gravity Forms sports a lot more features. One of the things I particularly like is how you can read and respond to form submissions from within your WordPress Dashboard. But also the fact that you can easily pass data to a confirmation page for integration with 3rd party services and that it integrates beautifully with other plugins using hooks and filters.
Gravity Forms Add-ons
The team behind Gravity Forms even went as far as to create a set of add-ons to easily combine your forms with, currently, MailChimp, Campaign Monitor and Freshbooks. Mind you, these add-ons are only available to Developer License Holders.
Pricing
All these feature come with a price tag though. One I'm more than happy to have spend. The way the forms are visually created makes creating forms an easy task and in the end that makes for a happy end user. Pricing range from $39 for a Single Site Support License, $99 for a Multi Site Support License (total of 5 sites) to $199 for an unlimited Developer Support License.
Might seem like a bit of money but I can assure you you can easily earn that back in sheer easy and joy to work with. Also it's very noteworthy to mention the support forum is absolutely top notch which means getting creative with this wonderful plugin even more within reach. Splashpress Media will overhaul its setup of a majority of sites over the next months and Gravity Forms will be used on every site. That's how impressed we are with this plugin.
Mind you, right now the licenses cover a lifetime support and updates, but this will change May 1st.