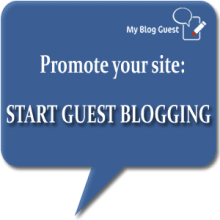 Last week I had the pleasure to announce the new My Blog Guest – Splashpress Media partnership and we are now opening some of our site for a weekly guest blog feature, also BloggingPro.
To guest post here at BloggingPro you will have to be a member of My Blog Guest and our own Andrew G. Rosen will deal with the submissions and schedule accepted posts.
What is My Blog Guest?
MyBlogGuest has been started by Ann Smarty, a fairly well-known weblogger and social media user. She's been guest blogging and building relationships in the blogosphere long enough to understand the power of a guest post – and that's what she wants to share via her little cozy web community.

My Blog Guest is a unique community that is based on one simple principle: if you provide quality, you don't need to pay to be heard. It unites bloggers who are interested in connecting to other bloggers, journalists and other content creators in any niche and publish their high-quality articles on their blogs.

What is a guest post?

A guest post is a piece of content the author and the blogger arrange to publish on the blogger's site for free. The guest post belongs to the author and is attributed to him. It is up to the author which sites to link to within the post and it is up to the blog owner to accept/reject the contribution.
You can also submit your guest posts via our Guest posting on BloggingPro page but remember to become an active member at MBG as we will verify your credentials.
And for those wondering, yes that's a Gravity Forms submission form. 🙂