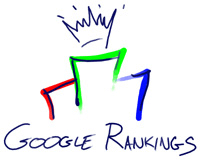 Many times guest bloggers get caught up on the PageRank (PR) of a website. For those who are unfamiliar, Google uses a tool called PageRank to do just that: rank webpages. Oddly enough, the tool was named after Google co-founder Larry Page and not after the action of ranking pages, but I digress. A website's PR has to do with the overall quality of the website, which includes a variety of factors including unique content, how often your site is referenced, the authority of the site that references you, etc. Google created an algorithm to measure all of these qualities, and the website is then assigned a PR number from 1-10 based on the algorithm findings. The higher the number, the better the website for users and guest posting.
Whether or not you find this to be true, websites with a higher PR tend to be on the first few pages of a Google search engine page. According to an Optify study, the top three spots on a Google search engine page receive 58.4 percent of all clicks from users. This therefore means that these webpages get the most visibility, so it makes sense to want to guest post on one of these websites. After all, you're likely guest posting on a blog because you want to improve the visibility of your own blog. This is why guest posting is so important.
Although guest posting on a website with a high PR is your best option, this can sometimes be difficult for a variety of reasons:
Sites with a high PR are usually very selective (obviously), so you may not have enough sample articles for the website to see; thus causing them to turn you down until you get more experience.
Websites with a high PR are often very specialized, so this will limit the number of websites available when searching for a blog with a high PR.
Not all blogs with a high PR allow guest posts. Many are large enough that they are able to hire a staff of writers.
This brings up the issue of guest posting on sites with a low Google PR. Although they are not as preferable as more popular sites, their certainly seems to be an abundance of them. Lower PR sites will generally give a writer more freedom and the chance to gain some experience. For this reason, it is important that guest bloggers don't write off a site with a low PR before giving it a chance.
How to Spot a Good Bad Blog Before Guest Posting

Blogs with a low PR are not necessarily bad; they just haven't been recognized for how great they are. Posting on a less popular blog could potentially have a big payoff. If the blog grows, then your articles will soon be extremely visible. You will nab that spot you want without all the formalities and strict rules most popular blogs have for their guest writers. In addition, low PR sites are often thrilled to have a guest post. For this reason, they will likely link back to your website more often than a very large, popular website.
However, posting on a low PR site can seem like a waste of time if it is going nowhere. For this reason, it is important to look for certain qualities in a blog. You want to make sure the blog has potential before you give them your brilliant article.
1. Maintenance : You want to make sure that the blog is maintained. In other words, a blog that is just sitting on the Internet is likely to remain stagnant. You can usually tell if a blog is maintained by looking at the dates of the posts. If there isn't a consistent stream of articles, whether they be guest articles or articles the owner wrote, then the blog is probably not properly maintained.

2. Content : A quality blog will have unique content. If you find a blog with a low PR that looks nice, make sure the content is original. A blog that simple syndicates a bunch of already existed content isn't likely to move up in the rankings any time soon. You can usually check this by copying and pasting the title or a snippet of the article into Google. If the article was originally published somewhere else, the original source will likely come up. However, be careful to really look at the site before making a judgment. There is a chance that the site that shows up in Google is actually the copier!
3. Focus : All blogs should have a clear focus. If not, readers will not be interested and that blog will likely have a long way to go before they grow. In general, a blog with potential will have an "about" tab that explains the focus on the blog. In some cases, the focus is clear, but the content doesn't match. For example, if you see a blog that says it offer tips on the latest and greatest communication devices, you don't want to see an article about and old dial up phone you want to see an article about voip phone systems or web conferencing software.
4. Navigation : A blog that is hard to navigate has a long way to go before their PR will improve. Although Google doesn't focus on navigation (or focus) when ranking websites, they do count how many sites link back to a particular site. If this blog is difficult to navigate with no search bar, lots of disorganized pages, no breadcrumbs, etc. then no one will want to read the blog. They will get frustrated and likely never come back.
If you find a blog that has a few of these warning signs, it still has the potential to grow; however it will take much longer. There is no sense on guest posting on a site unless you see it going somewhere, and this usually happens when a site has a nice layout, engaging content, clear focus, and easy navigation.
The bottom line is this: Guest posting on a site with a low PR is not a waste of time. As long as the blog has potential and allows you to put your link on their page, you will benefit!
Photo Credit: googlerankings.com, techmehigh.com, bleuforetenglishblog.blogspot.com, sonicseo.com,

Amanda DiSilvestro is a writer on topics ranging from guest blogging tips to telemarketing. She writes for an online resource that gives advice on topics including document software to small businesses and entrepreneurs for the leading business directory, Business.com.