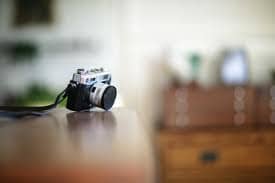 All good bloggers know that good content is the key to success when blogging; however they also know that great content isn't what draws a reader into a post. There are two things that a reader sees before clicking on a post: the title and the photo. For many, coming up with a catchy headline is seen as the hard part while choosing a cool photo is simple. After all, all you have to do is pick a photo that looks cool, right?
In many cases, yes, choosing a photo is as easy as looking at something and seeing something you like. However, it is important that every bloggers knows how to use photos correctly and where to find the photos to use. Bloggers use photos for several reasons:
The most common reason a blogger uses a photo is to set his/her content apart from the rest. Photos are easy to remember.
Enhance the meaning of the article. For example, a post with a lot of screenshots will be easier to understand than a big block of text.
On that same note, readers get overwhelmed with nothing but content. A photo helps to give a blog post the illusion of being manageable.
Understanding why photos are important to a blog post is one thing, but it is quite another to put these reasons into action. Consider a few of the things you should keep in mind when looking to get the most from your photos:
Formatting and Uses for Blog Photos
Just as with content, slapping together a photo isn't a good idea. In other words, just putting whatever photo you like wherever you want might not give you the best results. There are a few things a blogger can do to help make sure photos are used correctly:
1. Captions – Putting keywords in your captions will help your article when it comes to being indexed by a search engine.
2. Location – It is always best to place your photo at the top of the article. This ensures that a reader will see the photo and it makes sure that the photo will be remembered with your article. In general, most blogs find that a photo in the top left hand corner works well.
3. Screenshots – Screenshots work great when you're trying to teach someone how to do something. These are the types of photos that will go inside the copy; however it is recommended that you still have a feature photo near the top.
4. Size – If you are just going to have one photo at the top of your blog post, most bloggers recommend around 200X300. However, if your photos are the entire blog post (little content), you will want your photos to be much bigger.
Ultimately the way that a blogger wants to use a photo is entirely up to the blogger. I have seen many very successful blogs that add large photos above the article (such as The Credit Letter), and I have seen blogs that place photos
Free vs. Paid Blog Photos
When it comes to finding a photo, you have a few different options. Bloggers can purchase stock images from sites such as Shutterstock or iStockphoto for as low as $1 per photo. These photos are typically better quality and have a bigger selection than the free photos available.
Nevertheless, free photos work great for many bloggers. It is important to keep in mind that if you are going to use a free photo, you must give credit to the site where you found the free photo. Sites such as stock.xching or freedigitalphotos.net offer a wide variety of free photos. Both sites are easy to use, yet they may not have the specific photo you're interested in using. If this is the case, it's best to splurge a little bit and buy the photo that is really right for your blog post.
Photo Credit: tweetingandbusiness.com
Amanda DiSilvestro is a writer on topics ranging from social media to merchant services. She writes for an online resource that gives advice on topics including document software to small businesses and entrepreneurs for a lead generation website, Resource Nation.