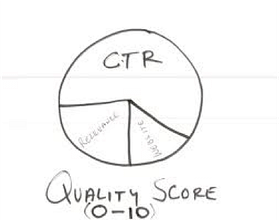 Do you remember sitting at your desk in high school? The teacher just announced that there would be a pop quiz. You start to sweat a little. Your heart rate increases. You do your best, then anxiously await the results. Well, that's kind of what a Quality Score is a test of how well you're doing. Let me explain.
You have a business, which has a website. You blog, Facebook, and Tweet,  all designed to help guide potential customers to your restaurant website. In addition, you advertise in magazines, some store windows, and you have a short radio ad. But you don't stop here, you're a savvy entrepreneur, and you pay attention to keywords and Search Engine Optimization. Like a juggler, you have many, many balls up in the air. But how effective are your efforts?
A Quality Score tests the effectiveness of all forms of your restaurant advertising, or all your balls in the air. And like those pop quizzes in school; you want a HIGH Quality Score. Quality Scores rank your effectiveness from 1 to 10 with 10 being the highest, most desirable score. A high Quality Score not only tests your effectiveness, but also your performance and click-through rate (CTR).
Benefits of a High Quality Score
It's first important to understand why you want a high quality score for your restaurant in the first place. There are really two main reasons that a high quality score is crucial:
The higher your Quality Score, the less you pay each time a potential customer clicks on your ad. This is called the clickthrough rate (CTR), and it can be quickly analyzed as well as frequently measured, sometimes as often as several times a day. As a restaurant business this will be extremely important because Internet ads are becoming more and more popular.
The higher your Quality Score, the higher your ads will appear in the rankings and for less money, as discussed above. And when you're trying to entice and attract busy consumers, a high ranking is key.
How Do I Find My Current Quality Score?
There are several ways online that offer to analyze your content and provide you not only with a Quality Score, but also many ways to improve your score and get more bang for your buck.
Wordstream and Google Adwords are two of the most popular (and efficient) ways for you to check your Quality Score easily and efficiently. In most cases, your score is analyzed several times a day, and you may be assigned a project manager to even assist you further, not only in the comprehension of your Quality Score, but also to provide you with direction and implementation of improving your score.
How to Understand and Improve Your Quality Score
1. Placement of keywords
You should place your restaurant related keywords on your landing page as often as possible. Various keywords are bid on, and their relevancy and clickthrough rate are calculated and studied for performance. The higher these rates, the higher your Quality Score for your restaurant website. In other words, to improve your Quality Score, take care in which keywords you bid on. Make sure they are relevant to your restaurant business and your landing page.
2. Using your keywords in your header
Building on this premise, once you've studied and analyzed your Keywords, or have hired professionals to do this for you, you discovedred your keywords have a high CTR, so use it not only often, but in key, high visibility areas such as your Header.
3. Have a specific and relevant landing page
With a specific and relevant restaurant landing page, your performance and Quality Score will increase. Obscurity and pages that are not relevant will result in low performance and low quality scores.
So take a few moments to have your quality score calculated, then work on improving and increasing this score, and your ad costs will decrease while your CTR and your restaurant website's performance will increase!
Photo Credit: joshnelsonimc.com
Kimberly Austin is a professional blogger that writes on a variety of topics including Restaurants in Atlanta. She writes for Restaurants.com, a leading directory of places to eat.