Aside from conversions and publishing great content, one of our biggest goals is to increase blog engagement.
BloggingPro had previously covered some awesome techniques already, but I feel this subject warrants a closer look because it's just that important for readers and publishers.
Let's dig right in, shall we?
Ask Quality Questions. Lots of Them.
Many bloggers – including myself – often ask one or two questions toward the end of the blog post. But considering that each article section discusses valuable details, why not end a paragraph with an open-ended question?
Creativity is key, and while not every single section should have its own question, it helps to include one after the most important or otherwise prominent ones.
It's also ideal to find the perfect balance, as you don't want to inadvertently overwhelm your audience in the process.
Add "Related" Posts (Within the Body)
Adding contextual links in articles is widely practiced, but I generally feel more attracted to those that stand on their own, separate line. Here's an example:
Make these links more noticeable through a combination of bold font and larger text. Following some basic copywriting techniques never hurts, either.
Add a Powerful Quote
Did you know that articles with multiple videos and images are shared more than those without?
The above fact serves as an example of a potential quote, which can be conveniently used to increase blog engagement.
Why leave something like this buried among the rest of your article text? Grab the most insightful parts of your blog post and catch people's attention with it. Make it stand out, front and center:
Articles with multiple videos and images are shared more than those without
Pro tip:
Plugins like Tweet This allow readers to quickly and effortlessly tweet any given sentence. Check it out!
Add an Estimated Reading Time
A short attention span may lead readers to see a blog post and flee after noticing just how long it is (even if he's genuinely interested in the subject). Otherwise, he may simply save it to Pocket and then forget all about it later.
It might be helpful to add a plugin like Reading Time, which estimates how long an article would take someone to read.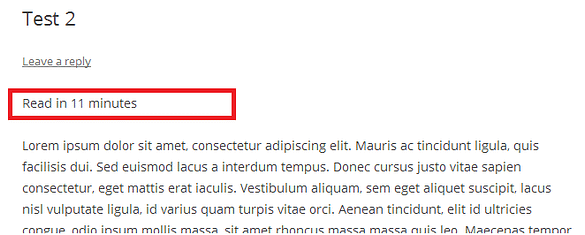 I was personally never an avid reader, but I've been more inclined to sit through an article after realizing it'd only take a mere 4 minutes to read, for example. For impatient people like me, these tools have effectively helped increase blog engagement on multiple occasions.
Use GIFs Wisely
Humor is always welcome, especially if you write for a boring niche. You know what never hurts either? Referencing current events (if your post isn't too evergreen) and evoking a little nostalgia – especially among the 30+ demographic.
How about a funny image from The Rugrats or Hey, Arnold! to help get your point across? Use sources like Giphy to find a wide range of awesome, engaging GIFs. Your readers will love it.
Add a Table of Contents
Do you normally write long-form content and split it into multiple sections and sub-headings? Then adding a table of contents will do your readers a favor.
This tells users exactly what to expect from your blog post and where to find it. What's not to like?
Be Brutally Honest
I'm not saying you should come across as a negative person, but don't hold back if you have a strong opinion and feel afraid to let it all out.
Here's an example: A parenting blog may be typically dedicated to cutesy articles, ensuring everything is delightfully sugarcoated. However, some moms have adapted a "real talk" approach by blatantly admitting when their day is going rough – especially after their four-year-old threw up all over the car.
Find your own way to relate to the everyday reader by speaking your mind; this is why they follow and trust your blog, after all.
Final Words:
Did I leave out any other ways to increase blog engagement? What are you personally doing and how has the level of interaction changed? Share your best tips in the comments section below!
Don't Miss: