Having a blog can do wonders in building your online presence. However, your online presence doesn't end with creating a functional blog. From your blog are other opportunities that you can pursue to boost your authority.
One of those opportunities is engaging with your target audience. Writing killer blog posts that attract traffic and elicit a reaction is a no-brainer. It is the foundation where the success of your blog rests on.
However, there comes to a point when content isn't enough anymore. The content shock phenomenon encourages bloggers to veer away from the crowded world of content and look for other avenues where they can connect with their audience.
One of those ways is by launching a webinar. This content type is common among businesses who onboard their potential leads to convert them into sales. Regardless, it is still possible to create a webinar with the purpose of increasing your authority as a blogger.
What value can YOU get from hosting a webinar?
A webinar is simply a seminar conducted over the internet. But as simple as it is, it has loads of benefits, regardless of what webinar platform you use. Aside from increasing your credibility, below are just some of the things you'll get that will be beneficial for your blog's future.
Build your email list– you need to gather the personal details of attendees that you can add on your list
Get new leads
Get noticed by influencers
Be able to promote your new and upcoming products
When choosing a webinar platform, be mindful of the costs. You don't want to subscribe to a webinar tool that would only cause problems instead of find solutions for you.
Therefore, it's best if you could test out the tool first like this WebinarJam trial for size.
Now that the value that webinars can provide your blog are clearer, below are the ways on how you can plan for it:
Focus on the value it brings your users
First and foremost, usefulness is the one thing you need to be able to bring on the table. If you're only thinking about getting leads and sales, then you have to re-think your webinar's purpose.
We get it, everyone wants to see growth ASAP, but to get the numbers soaring, you'll have to provide your audience with better knowledge.
Your participants should leave with an information they can use in the real world. It should have an impact, be life-changing, and stay unforgettable.
It may sound like a bit of an exaggeration but always take it upon yourself that you already have them on board, don't make them regret the experience.
Choose relevant topics
When I say that you should deliver value to your audience, I'm dead serious about it. While anything can be valuable, your webinar should talk about things that are relevant.
Look for ideas on what to discuss. Remember, you are doing this because you want to solve a problem that your audience experiences.
Always Encourage Engagement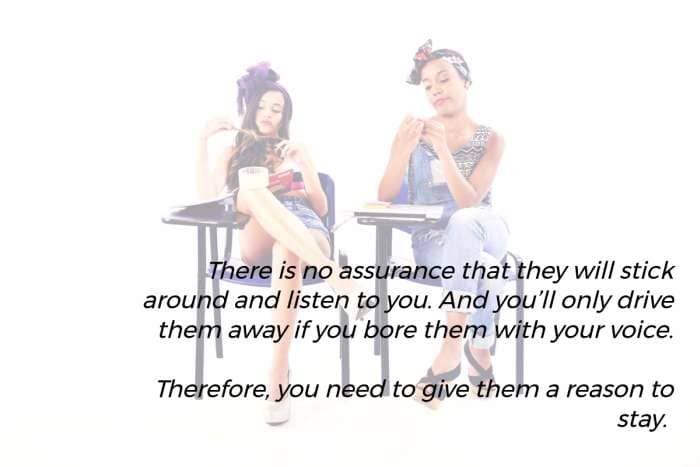 Your webinar is all about interaction with your participants. Can you imagine a webinar where you're the only one talking and you don't give the floor to your attendees?
It is important to consider that online users have short attention spans. They switch tabs, they mute audios, and worse, they close the video and move on to something else.
There is no assurance that they will stick around and listen to you. And you'll only drive them away if you bore them with your voice.
Therefore, you need to give them a reason to stay. Below are ideas on how you can engage with them during your webinar:
Ask your audience if they have questions and answer them proactively on the video
Host a giveaway or give freebies
Display polls and discuss them
Ask for their inputs
Even if they promised to watch you, they won't if you don't make an effort. Always accommodate their needs first.
Don't Forget to Remind Your Prospects
Yes, registrations are important, but the number can be deceiving. You aren't sure if those 100 registrants are going to be participating, and sometimes, neither do they. Why? Because they forgot about it.
Webinars will be a waste of time if no prospects show up. 24 or 48 hours before your webinar goes live, send an email reminder, a social media post, and a blog post reminding them about it.
Repurpose Your Content
Once you've finished your webinar, it still has a ton of uses.
You can repurpose it and create brand new types of content that you can share on your blog as well.
Get a valuable quote and create it as a social media shareable
Cut your video into small parts and explain it more through another blog post
Create transcriptions for your next e-book
Turn it into a podcast
Create another video out of it
Making the most out of a single, well-done webinar is a smart thing to do. While a webinar is a one-time thing, through creating another type of content from it (such as a YouTube video), you are making it available forever. And with that, you can bring in more eyeballs to your blog.
Wrapping it up
To summarize the list above, the one thing it's pointing to is growth. Your own personal growth and your blog's.
After reading this post, do you now believe that you can leverage a webinar for your blog's growth when done right? If you're really eager to know, you can always test the waters yourself. And never forget to prioritize giving your audience the best value they could ever have. Good luck!
Related posts:
Tips and Tricks for Setting Up Webinar Meetings