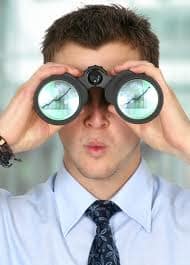 There are a variety of different reasons that someone may start a blog or a website—organize ideas and articles, make connections, therapeutic reasons, make a profit, etc.—but few actually consider using a blog as a job search tool. I have quickly learned that whether you know it or not (and whether they know it or not) potential employers are looking at your blog. There are two different ways that a blog could potentially be a great job search tool:
Someone happens upon the blog and notices some great writing. They may want to do a bit more research to discover more about you, the owner, and your writing background in order to determine if you are right for a position.
 You put a link to your blog in an email or on an electronic application. This will put your blog right in front of a potential employer on purpose.
No matter how your blog helps you in the job search, it is important to realize that there are ways to optimize your blog for that potential new job. You do not (and should not) have to change the essence of your blog, but there are a few tweaks you can make to give yourself that extra push.
Top 5 Things to Consider When You Use Your Blog as a Job Search Tool
It is important to realize that many major voices in an industry have some sort of blog or website. Whether you created your blog for this reason or not, it will be a great way to show that you are on your way to really becoming someone influential. You know how to connect with people, write content, and run a website; three things important in any business. Consider some of the ways you can optimize your site even more for that potential employer:
1. Be Appropriate – There are of course some blogs that link to offensive articles or make inappropriate jokes, but these are not the blogs that will get someone a job. It is completely fine to do what you want with your blog, but don't assume that you're going to get a job out of owning that blog. Be mindful of what you put online if you're open to the prospect of new employment.
2. Guest Posting – If you have done a lot of guest posting in order to help your website rank well on a search engine results page (SERP), create a page with links back to all of these articles. This will give employers extra articles to check out and will let them know that you are comfortable reaching out and talking with other editors.
3. Social Media Buttons – Put links back to your social media channels somewhere on your blog. This will make it much easier for someone to do extra information on you as opposed to having to blindly search around the networks.
4. Resume – While most people will have some sort of social media buttons on their blog, few have a link to a resume. However, this is a very quick and easy way for those checking out your blog to learn more about you. Creating a page that details all of your past work experience offers nothing to readers, but having a little link on an "About" page can't hurt.
5. LinkedIn – This is, of course, the virtual resume. Although your LinkedIn profile can be another social media button on your page, it is a good idea to mention this social networking site more than once. Link back to your profile and in a few different places on your website, ask people to find you on LinkedIn. People will be much more apt to click on LinkedIn than a link to a resume or even another social sharing button.
For many, the thought of opening up doors to a new opportunity isn't a concern. There is nothing wrong with going about your blog or your website as if no one is watching. After all, blogging began as a sort of virtual diary. Using a blog as a job search tool is just one way to optimize your site, and it is up to the owner whether or not that is something he/she finds valuable.
Have you ever had a visitor to your website ask you about a potential job? Let us know in the comments!
Photo Credit: sheltonstatecareerservices.blogspot.com
Amanda DiSilvestro is a writer on topics ranging from social media to accepting credit cards. She writes for an online resource that gives advice on topics including document software to small businesses and entrepreneurs for a lead generation website, Resource Nation.