Write 2,000 words per hour. Every single time.
Just a few short years ago, my average "words per hour" were mediocre at best. I would pat myself on the back if I managed to reach 1,200 in a single hour, even when very little research was involved.
Time has passed and I have gradually come to write a reasonable 2,000 words per hour pretty darn regularly. This has taken practice, persistence, and a lot of Snickers bars in between. But I made it, and I want to talk about the things that helped me reach this milestone.
While others can certainly reach over 3,000 words, I'd like to focus on an easier goal so that you can make it happen more consistently.
Let's get started…
Become a Subject Matter Expert
Having a natural passion for the subject matter at hand is by far the easiest way to write 2,000 words per hour. However, I understand you won't necessarily love every topic under the sun – especially if you're working for a client as opposed to being fully independent.
Thankfully, many of the remaining tactics can still help improve your speed regardless what topic you cover.
Read. A lot…
I must confess that I was never a big reader, but the internet has slowly helped me tolerate it. Now it's unbelievably easy to find exactly the type of things that interest me and there are no excuses.
As you absorb more knowledge, you will naturally learn to express yourself more efficiently (even if you love passive voice, the way I obviously do). New ideas will also come to your head more easily as your brain is exposed to every imaginable topic available out there.
Be Conversational
There's formal writing, and then there's informal (my favorite). I used to believe the former was absolutely necessary, otherwise nobody would take me seriously.
Then I realized how wrong I was.
If you're not writing for a highly conservative client, embrace a conversational approach whenever possible and pretend your readers are real-life friends. This is what I personally do, and bloggers like Ryan Biddulph can tell you a thing or two about that as well. He's even been featured on famous websites without writing like Shakespeare all the time.
Get Comfortable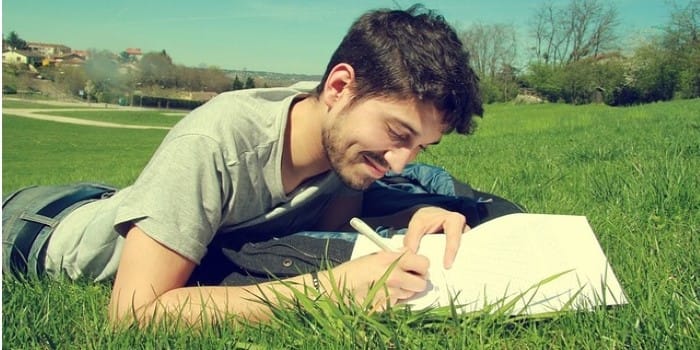 Being comfortable goes well beyond working from your local Starbucks. Look into the subtle details that may subconsciously hold you back: Are you using a small, hard chair over a leather one? Is your laptop screen too small? Are your current shoes bothering you a bit? And how's the lighting in the room? What about the humidity level?
These seemingly small things all add up to helping you write 2,000 words per hour. Not initially, and certainly not overnight, but sooner or later everything does come together.
Develop a Habit
Do you ever perform certain things without even noticing on a daily basis, such as brushing your teeth? This is because you have developed a habit, which makes accomplishing goals much easier.
Implement small goals into writing, such as publishing a new article more often or working when you have the most energy (as opposed to being scattered with it).
Use a Writing Tool
Some can write 2,000 words per hour with the help of full-featured apps like Microsoft Word. Others prefer to use a light-weight alternative such as iA Writer (iOS, Mac, Android) as it helps them stay focused.
I personally prefer Write or Die 2 when there's little research involved (think short Kindle fiction), mostly because of its ability to delete my words if I top typing for a few seconds (yes, the app really does that).
I should also mention more sophisticated options like Dragon Naturally Speaking, which allows you to speak into a microphone and the words just "magically" appear on screen.
Other tips
Don't edit until you're 100% done writing; composing and editing simultaneously is disruptive.
Insert quotes: While you're not technically writing a quote from scratch (rather, you're pasting it into the article) this can still help you reach the desired word count incredibly fast.
Tell a story: Take readers on a journey – whether fictional or factual – as this requires little to no research.
Final Words
It all comes down to finding what works best for you, then conquering the world one key stroke at a time. What other tips can you personally recommend to write 2,000 words per hour?
Don't Miss: