Editor's Note: Matt Lee is the Director of Marketing at Adhere Creative, an award-winning business to business inbound marketing agency. Matt plays the violin and takes pride in having played for Pope Benedict during his papacy. To see more of Matt's work, visit www.adherecreative.com/blog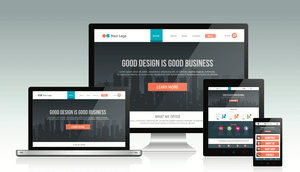 The next time you head to the mall or airport, do some people watching to see what others are doing while shopping or waiting for flights. Of course, some are chatting, window shopping, or reading a magazine to pass the time. However, the majority of those you come across in a public place are busy with their cell phones or tablets. They're scrolling through websites, posting updates on social media, and streaming video content. Studies have shown that traffic from smart devices has increased 125% since 2012, and there are many indications that the trend of accessing the internet through mobile devices will continue to boom.
However, you've probably noticed that using your smart phone to browse sites which are not optimized for mobile devices can be frustrating, if not downright exasperating. The fact is that many web pages are not mobile friendly, making operability a nightmare. When you think about how much business you could lose simply because visitors to your landing page are annoyed, you can see how adjustments are necessary. The simple answer is that you need to know how to implement responsive web design so that visitors aren't turned away.
What Can You Do?
Of course, one obvious approach to handling the desktop versus mobile situation would be to create two distinct websites for your business. One would be intended for those accessing it via their desktop computers, and the other would be optimized for mobile users.
You could opt to make the content different between the two, or switch up the code to simplify the mobile site. However, this approach, known as "forking," is a catastrophe for your IT department. You'll have duplicate content and invest tons of time scheduling updates for both sites.
Instead, consider a responsive design approach to your website. Once you understand what it is and how to implement responsive web design, you'll see that it's the smartest, most cost-effective way to make your website mobile and desktop friendly.
Responsive Design in a Nutshell
Without getting too technical, responsive web design is an approach to page development that relies upon a flexible, fluid layout that appears the same no matter what type of device you're using. In a sense, it reads the screen size and adjusts text, images and other content to fit the space. The grids that developers use to create the site are proportional to the screen size, so the content is identical whether it's on a tiny smartphone screen, a mid-sized tablet display, or a desktop monitor.
What Responsive Design Brings to the Table
Clearly, the main advantage of this flexibility is making your site more viewer friendly on portable devices. However, there are a few benefits of utilizing responsive web design that extend beyond optimizing your site for mobile use. For one, reaching out to a larger audience of prospects enables your business to increase your lead generation and sales conversion rates. Also, by consolidating what would otherwise be two sites, you save time and resources on regular and mobile site maintenance.
Moreover, responsive web design allows your website to be more search engine friendly and visible to online users. Since you're not posting hyperlinks and blogs to two different sites, you can focus on one site and create dynamic, engaging content more frequently. Search engines love high quality content, which places your company at the top of the hit list when users enter keyword phrases.
Map Out Your Strategy
You'll need a plan on how to implement responsive web design in order to make the process as smooth as possible. From a development standpoint, you should take a good, long look at your existing page and identify the non-essentials. Any superfluous clutter only interferes with your call to action, so clear out those items that detract from it.
The next step in how to implement responsive web design is to begin modifying your pages. Obviously, your landing or home page is the best place to start. This is where the majority of your visitors are likely to be directed when they're inputting keywords via a search engine or hyperlinking from another source. Once you have the landing page done, it will be easier to modify the deeper links.
Never Stop Testing
Even once your responsive web site is up and running, your work isn't complete. Of course, you'll be adding linking blogs, adding content and handling updates. However, you need to be constantly testing your site to ensure that the smooth, clean look remains through updates to various operating systems. You need to try it out on as many devices as you can get your hands on. Plus, you need to do it often to determine whether changes are necessary to optimize the view on different screen sizes.
Building a responsive website can be a daunting task for business owners who aren't familiar with the process. It's possible that you need a website developer with inbound marketing expertise to help you create the right landing page that works for visitors accessing via different platforms.
The best plan is to determine how to implement responsive web design that works for your business. With the right strategy, you can build a website that is fully responsive and accommodates desktop, tablet and mobile users. While the cost may initially seem a bit high, it's important to realize that you get what you pay for when investing in responsive website design.