Improve site navigation through simplicity.
Do you ever visit a WordPress blog only to realize how difficult it is to navigate? This often causes readers to abandon it or only visit on occasion.
The following tips are designed to turn your blog into a pleasant resource for new and existing visitors. Let's get started!
Use a Customizable Theme
It's good practice to keep your overall layout as simple as possible, but sometimes we need a bit more flexibility. Consider themes that allow you to switch the number of sidebars, adjust the footer, and fully customize your homepage's post layout.
I personally use themes from Themify, which come with a built-in "Page Builder" that enables me to make my site look however I please (I mean it, the sky's the limit). Otherwise, consider a plugin like Visual Composer to achieve a similar goal.
Enable Breadcrumbs
These refer to the link trail you would see at the top of posts and pages, such as: Home>Blogging Tips>WordPress>
Here's a nice example from WPBeginner: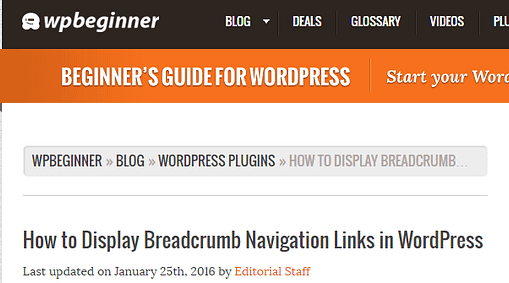 This is a simple, yet powerful option that enables visitors to quickly visit a previous section without confusion. While it's not necessarily helpful for every standard blog, consider using it on a site with multiple sub-categories such as an ecommerce store.
The Breadcrumb NavXT plugin does a great job and helps improve site navigation with ease.
Use Numbered Pagination
To me, there's nothing more annoying than the inability to skip over several pages when browsing through multiple pages or archive. This is especially important when looking for products, even if you have some basic sorting options already in place.
Pagination effectively gets rid of "Next Post" and "Previous Post" and replaces these with numbers. Plugins like WP-PageNavi provide a great fix, as well as many premium themes such as the ones provided by the aforementioned Themify.
Add Related Posts
I love reading an article and naturally running into a highly related piece on that same page.
Include a link to related posts (along with their titles) at the bottom of your content and even right in the middle if it makes sense.
Doing this manually gives you greater control over which post users get to read, but plugins such as YARPP can also improve site navigation through more automated options.
Interlink
Interlinking between existing articles creates a chain of related material that helps users stay on your website longer. Do you ever find yourself clicking every link on Wikipedia articles? This is the same awesome feeling you would give your blog readers.
Use a Logical Structure
It's common practice to include your website's most important pages and categories first, followed by optional ones last. Your "About" and "Contact" pages, for examples, don't typically go before prominent sections like "Job board" or the main products page.
Follow a similar pattern with all sidebar items to greatly improve site navigation and overall user experience.
Use Clear, Obvious Titles
This one is a tad subjective: You want all categories and pages to clearly tell the visitor what they're about. If your site hosts a job board, for example, don't name it "The Pot of Gold" because not everyone will understand what this is all about (and many won't care to find out).
On the other hand, being playful with words and phrases may improve your brand and help your site stand out.
The key here is to word things wisely, perhaps by leaving the cutesy names to the "less prominent" sections. Aim for clarity where necessary, not creativity.
Create a 'Start Here' Page
Do you have a series of must-read posts you'd like visitors to go over? Maybe you run a "WordPress for Beginners" blog and would like them to learn the very basics first and foremost? This is where a "Start" page comes in. Customize it according to your needs, niche, and audience.
Honorable Mentions
Embrace short paragraphs: Nobody likes to read a wall of text. In fact, this is the number one reason I skip an article and go find a similar one elsewhere.
Subheaders: These are essential to improving user experience and are quite easy on the eyes.
Use tables when appropriate: Do you have a gigantic list of items, such as CommetnLuv-enabled blogs along with other related details? A nice table works wonders here. I personally use TablePress.
Learn from other bloggers: Analyze your favorite blogs and implement a similar look and feel. There's nothing wrong with that.
Your Turn
There are still dozens of ways to improve site navigation and user experience. What can you personally recommend? Share your knowledge with the rest of us!
Don't Miss: