Make new connections. Increase domain authority. Be everywhere at once.
What if there was a tool to increase domain authority, meet powerful influencers, and boost traffic all from one convenient location? You might be in for a surprise…
You see, it's common for bloggers to focus primarily on posting new content in an effort to keep their website from stagnating. In doing so, many of us forget the power of sharing our work and meeting influencers in the process (which is far more important than updating your blog every week).
Today's post focuses on tools to help you expand in every sense of the word. These will encourage others to share your content with their own social media following, and give you the chance to connect and skyrocket your authority in record speed.
Ready to explore this fun, often neglected side of blogging? Let's get started.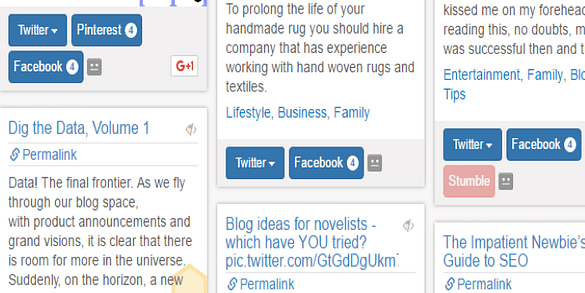 Price: Free
Premium options: Yes
Viral Content Buzz is essentially a content exchange community where users share each other's posts on their respective social media channels.
Once your account is configured, you can browse for users' posts and click to share them on the likes of Twitter, Facebook, Pinterest, StumbleUpon, and Google Plus. In exchange, receive points for your efforts which can then be used (or spent) by adding your own work. This encourages healthy and ongoing efforts among every blogger involved.
The service is free by default, with a Pro version providing hundreds of automatic points each month, access to private forums, analytics reports, and other features.
Price: Free
Premium options: Yes
Similarly to Viral Content Buzz, this service allows users to collect points by sharing each other's content, thus helping you increase domain authority and your reputation as a trusted source. The tool makes use of more than just Twitter, as it has gradually implemented the likes of Facebook and Google Plus over the years.
That being said, most of its capabilities are geared toward Twitter; you can choose the minimum amount of followers someone must have in order to share your content, how many times you'd like for people to tweet, and the amount of points given (more points equals greater incentive).
Special options let your credentials appear on the front page for others to connect with you easily (perfect for increasing social media and website traffic).
Price: Premium (great discount available)
While the above are great for sharing and connecting with others, Ninja Outreach was specifically designed for outreach purposes – hence earning a special mention in this post.
Its creator, Dave Schneider, knows the increasing importance of connecting with rising bloggers and established influencers. Described as an "all-purpose influencer marketing tool," this neat service enables you to:
Collect contact info from thousands of influencers by niche/category
Access important details from one screen, including a blogger's website, popular articles, social media influence, blog authority metrics, location, and more
Connect with bloggers for guest post inquiries, linkbuilding, increase domain authority through collaboration efforts, social media prospecting, and any other job you wish to conduct
I am only scratching the surface here, but the above should give you an idea about the power behind this neat little tool. Use it if you're truly serious about multiplying your traffic and blogger authority.
Price: Free
Premium options: Yes
MyBlogU is maintained by Ann Smarty, the mastermind behind the aforementioned Viral Content Buzz. This service is the ideal place to find bloggers you wish to interview, which gives you and your website greater authority over time.
Let's say you wish to publish a post about traffic generation tips. You might pose a question asking, "Bloggers: What is your absolute best way to increase blog traffic?" In exchange, you offer an incentive and use the answers as a blog post, a special guide, and anything else you wish.
Likewise, others may post an interesting question and your opinion could be used in their future blog post (along with your credentials, which is the usual incentive).
Final Words
Have you used any of these tools whether to expand your reach, increase domain authority, improve blogger reputation, or all of the above? How has your reach improved over time? Please share your experiences below.
Don't Miss: