Get Website Traffic Without SEO Efforts
The first part of this article, based on getting website traffic without SEO, focused on article syndication among other tactics for increased pageviews. This piece continues the trend by examining other creative ways to increase traffic, all while neglecting the likes of Google as a primary source.
While SEO is still highly important, other traffic sources are also worth noting and implementing into your overall blogging efforts.
Let's get started…
Conduct Interviews
Conducting (and participating in) interviews is a somewhat-underrated way of getting website traffic.
If you are an interviewee, you will likely get the chance to promote your properties and get additional views as a result. The interviewer might also share the published piece on his social media accounts – especially if you politely ask him to do so. In addition, this helps raise brand awareness and connects you with fellow bloggers in your field.
As the one conducting said interviews, on the other hand, it's always ideal to go after the big fish as a means of gaining authority.
If you came across an unknown blogger who interviewed your favorite influencer, a small part of you will likely want to follow him as a result — correct?
With that said, try to gauge the website's overall status if you are to be interviewed, making a guesstimate of their overall traffic and engagement. Likewise, you should ideally form a relationship with the desired interviewee before approaching him.
Places to conduct interviews include HARO, MyBlogU, and connecting with fellow bloggers the old fashioned way.
Create Infographics
Creating a powerful infographic can gradually drive massive traffic back to your website. Especially these days as influencers are in love with statistics and everything factual.
For example, do some research on topics like "Percentage of people who are now working from home," detailing the last 15 years with crucial statistical data. Don't be ashamed of placing your website/brand logo on the infographic, either.
Follow up with a wide range of niche bloggers and ask them to share your work as a direct backlink or by posting it entirely on their website. Again, think about big influencers and multiply that number as much as you can.
Don't forget popular platforms like Instagram and Pinterest as a means of spreading your work and ultimately getting website traffic without SEO as a primary source.
You may rely on services like Piktochart and Venngage to create beautiful infographics. Try it out!
Share a Document
Similarly to blog commenting, some people are quick to dismiss a certain traffic source merely because "it's old news." Places like Yahoo Answers share the same stigma due to its popularity. Rest assured, however, that most of these are still very useful for getting website traffic without SEO and raising brand awareness in the process.
This brings me to none other than "document-sharing" websites like Slideshare. Although SEO really helps in this case, you can still get traffic without it by relying on usefulness, compelling visuals, and keeping things succinct.
You should also put other rules into practice, of course, such as sticking to a certain niche while publishing multiple projects consistently.
Perhaps more importantly when it comes to traffic, ensure you include a call to action and encourage users to click the desired URL. Simply pasting a link and hoping people would click may deliver some results, but this is not nearly as effective.
Live Broadcast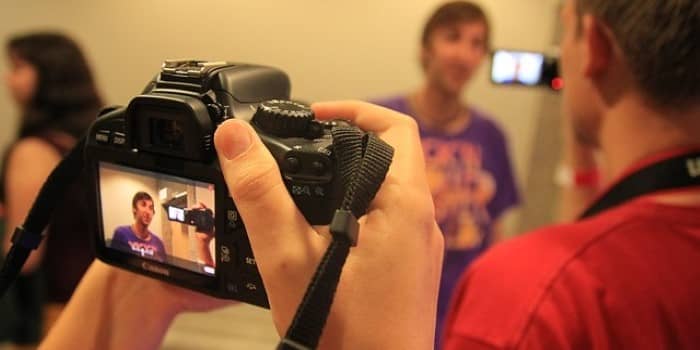 This method can be downright scary for many, which also implies it is somewhat untapped.
In this case, the idea revolves around teaching others how to do something via live video. Perhaps you're an SEO expert or wish to tutor people on everything related to WordPress. Whatever it may be, chances are you're already familiar with something that may be of use to the masses.
People will gradually become your followers and introduce their friends to your broadcasts, creating a loyal following of "people in need" (marketing 101: give people what they want).
Then, casually advertise your website for additional resources. This gives you the chance to build a high-quality list, sell premium tutorials, and much more.
An ideal place to broadcast is Periscope. Click here to read an article I had previously written about it.
Simple Videos
I would like to stress the word "simple" in an effort to not overwhelm those who despise having their faces all over the web. In other words, a video can be of just about anything and still manage to be quite useful – and you don't ever need to be physically present or speak.
Here's a quick example:
For every blog post you write, create a simplified version by gathering all the main points.
Turn these into a set of slides and use one of thousands of royalty-free background music for it. In fact, YouTube gives you access to these sounds without any legal trouble whatsoever.
You may use the likes of Microsoft Movie Maker or similar software to put it all together in a matter of minutes.
Now that you have a simple video at hand, release it on multiple video sources (not just YouTube). While you're at it, you may optionally compile it into a different format for the likes of Slideshare or an infographic. See how useful the aforementioned sources can be?
Lastly – and this goes without saying – link back to your website for increased traffic.
Final Words
These are only some of the ways to get website traffic without SEO – with many more creative ideas scattered around the web. How are you personally increasing your monthly pageviews? Please let me know your thoughts in the comments section below.
Don't Miss: