Designers are always on the lookout for resources and tools that can make their work easier, not to mention inspire them to take their designs to new levels. When it comes to finding inspiration and tools, there's no better place to be than in a community of like minded people.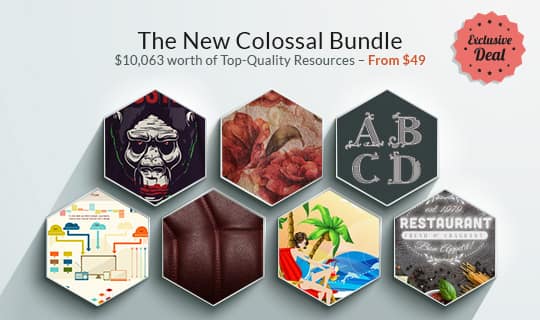 That's where Inky Deals comes into the picture. Technically a deals web site for designers, Inky Deals has become one of the go to sites for many a designer. With a community encompassing more than 300,000 design enthusiasts, the site offers a host of premium resources at prices anyone can afford. From web designers to graphic designers, Inky Deals has made quite a lot of people happy with their offers.
With a 200% money back guarantee, how can anyone NOT be satisfied? How does 200% work, you might ask? Basically, if you're not satisfied with your purchase, you get your money back, and you get to keep the product, too. Talk about having your cake and eating it, too!
Things get even more interesting with Inky Deals offering The New Colossal Bundle with $10,063 worth of Top-Quality Resources – From $49!
The Inky Deals Bundle
What's in it for you? Here's what the bundle includes.
The New Colossal Bundle
– 117 Vector Sets worth $1,755
– 425 Vector Illustrations worth $1,700
– 40 T-shirt Designs worth $600
– 18 Texture Packs worth $265
– Tatianna Font Family worth $35
DesignTNT Massive Library
– 233 Vector Sets worth $2,290
– 101 Web & Print Resources Packs worth $1,070
– 109 Photoshop & Illustrator Addons worth $1,036
– 69 High-Resolution Texture Packs worth $729
– 67 Brushes Sets worth $486
– 10 Premium Tutorials worth $97
That's a whole lot of resources you can use! But, it gets even better. This entire bundle comes with an extended royalty license, which basically means you can use the resources for both personal and commercial purposes – unlimited!
And because they want to give BloggingPro readers a chance to get in on the deal, they are offering an exclusive discount coupon worth $9. How do you take advantage of this? Simply use the code INKYCOLOSS9 at checkout. This coupon is valid before Sunday, April 13th.
Let's sweeten the deal even more
To give you a taste of Inky Deals…
Download an amazing freebie with 4 vector illustrations, 4 textures and a T-shirt design worth $35 and use it however you wish.
What's in the bundle:
Click here to view the entire content of this amazing bundle!