People who put up ads looking for freelance writers or bloggers receive tons of replies, many of them fluff. You may know that you are the best person for the job, but you have to make sure that you can convey that to the "employer" as quickly as possible in your job application.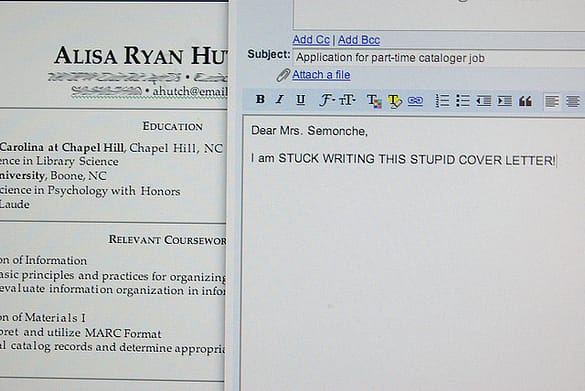 We already know that people have very short attention spans these days, and professionals going through cover letters only take several seconds to decide whether or not to look more closely at your email. It is thus crucial that you make sure your job application goes straight for the jugular.
Here are some reasons your job application gets ignored, and what you can do to fix it.
1. You don't follow instructions.
As I said, job applications come in droves, and the person who has to sift through them doesn't have the luxury of time. If you miss just one specific instruction (example: Add the word "sugar" at the end of your subject line.), chances are that your email will immediately be trashed.
The fix: Read the job ad thoroughly, several times if you must, and make sure you get every instruction right.
2. You write your autobiography in the cover letter.
Sure, people/companies looking for bloggers want to know something about potential hires. Some ads even ask you to share something about yourself. That doesn't give you the license to go on and on and write your life story – even if it's somehow related to the job – in your cover letter.
The fix: Keep it short and straight to the point. Introduce yourself, your relevant work experience, and why you think you are the person they need for the job. Done!
3. Your cover letter has a typo or grammatical mistake.
You may know your grammar, but we all make mistakes when typing. Typos come in all forms – from misplaced (or missing) punctuation marks to misspelled words. It is perfectly understandable if you make a typo or two in your job application. But it is not excusable. If you let these mistakes pass, your chances of being ignored skyrocket.
The fix: Proofread. Do this once after writing the initial draft. Make necessary changes. Proofread again. And then maybe do it once more just to be sure.
4. Your closing statement is boring.
There's nothing wrong with conventional closing statements. People usually use "Best regards", "Sincerely yours", "Warm wishes," and so on. There is nothing wrong with using those statements. But they're boring. Standard.
If you've gotten the hirer that far, why not close the deal with a closing statement that really hooks them in and makes them get in touch with you? Your choice of closing statement may make the difference between you getting hired or someone else getting the gig.
The fix: Be bold. Be confident. End your cover letter with a call to action, asking the hirer to get in touch with you without delay. (Word of caution: tread that thin line between bold/confident and arrogant.)
Your turn
What mistakes do you think have prevented you from landing a gig? What best practices for job applications can you share?