It doesn't matter if your business is mainly online or offline. If you're running an online store, blogs, affiliate sites, or your own digital startup, you will still rely on the main muscles that power your operations. These are the people putting in grunt work and running your company from behind the scenes. And when it comes to manpower, productivity is an issue that can be easily overlooked by business managers, especially for those who are running online firms.
5 Ways to Increase Your Blogging Productivity Without Sacrificing Quality
Today, there are plenty of business apps that can boost the productivity of your business as well as the people running it. This 2016, here are the best 5 key productivity tools that can help you achieve maximum productivity for your online business.
Socedo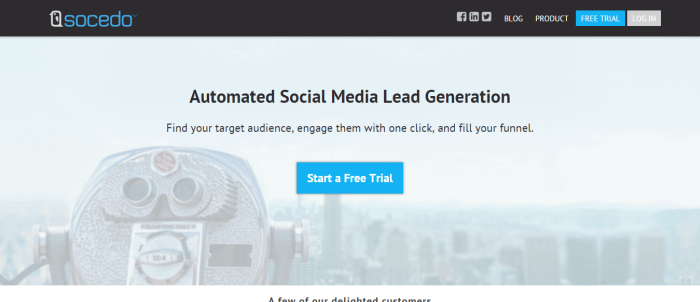 One of the best channels to generate leads online is on social media. With the chatter that goes on Twitter, Facebook, and Instagram, there will always be at least one potential client lurking in these social sites.
At the same time, due to the noise that takes place on social media, it will be difficult to manually browse through millions of tweets and status updates for users who may be interested in your products and services.
This is where Socedo comes in to cut the noise and deliver you highly-targeted leads with just a few clicks of a button. You can filter the type of users on social media that you want the tool to serve you so you can immediately funnel them down to your sales cycle. For businesses looking to strengthen their lead generation campaigns on social media and save time in doing so, Socedo should be on top of your list.
Cyfe
Setting clear business objectives is the first step in growing a company. The second step is determining the best ways to monitor and measure your progress. When it comes to online marketing, successful business managers develop Key Performance Indicators that can help them tweak their processes to attain the most efficient way of achieving those objectives.
Cyfe is an all-in-one platform where you can obtain invaluable metrics about your website. It is more than just a simple analytics tool that presents you with information regarding the basic metrics such as traffic, conversion rate, subscribers, and hits. It is a single business dashboard where you can get easy access to all pertinent data – no exceptions.
It also does so in a fast and functional manner. From the main interface, you can easily access metrics such as visitor data, business expenses, sales, social media, real-time reports, and marketing data. To ensure the seamlessness of the system, you can integrate pre-built widgets for external platforms such as Freshbooks, GetResponse, Facebook, and Salesforce.
Asana
Outsourcing professionals on a remote employment basis has been one of the most efficient ways to get things done for online businesses. However, finding a reliable freelancer and establishing effective communication between co-workers prove to be a challenge for business managers.
Look, I won't judge you if you still use Skype and emails to communicate with your remote workers. In particular, using Gmail with your custom domain is a good way to brand your communications with the team.
However, you're missing out on one of the best ways to promote collaborative effort in your team. Asana is a project management tool that can help you manage and monitor your team and stay ahead of your project goals.
Some of Asana's key features include task checklists for delegation, due dates for setting deadlines, project conversations for collaboration, and dashboards for juggling multiple projects at once.
Zapier
When it comes to automation, there really is nothing Zapier can't do for you. Automating businesses process is a great way to save time on repetitive tasks and improve your team's productivity and focus on more complicated duties.
Automating processes with Zapier is simple. First, you need to specify triggers and actions. From then on, you can easily mix and match triggers and actions from hundreds of apps supported by Zapier. For example, you can automatically save Gmail attachments to your Dropbox folder, automatically Tweet new posts from your WordPress blog, and so on. As long as the app you're using is supported by Zapier, there is no limit to what process you can automate. All of these without having to write a single piece of code.
Sortd for Gmail
Sometimes, the biggest productivity boosts come from the smallest tweaks in your work environment. Sortd is an app for Gmail that allows you to easily and stylishly organize your inbox. True, Gmail already has built-in features such as folders, tabs, and filters to organize your emails. But Sortd takes organization to the next level by presenting everything in a layer with a set of lists. In this layer, you can specify sections such as a to-do list, client proposals, and so on.
If you've been using Trello, a workspace organization tool, then you'll definitely recognize the familiar setup and ease of use present in Sortd. Although Sortd is still currently in its early stages, it already nails the organized interface you need especially if you're used to handling countless emails in your nature of work.
Rescue Time
Apart from money, time is another resource that requires careful planning to be allocated effectively. Unfortunately, time management is yet another easily-overlooked factor in a lot of businesses.
Rescue Time is a simple tool that allows you to stay focused on relevant tasks. It works by allowing you to specify daily goals, identifying your unproductive habits, and encouraging you to stay motivated with detailed reports, weekly summaries, and a productivity score that measures your performance.
If you are a success-driven individual, remember that self-assessment is indispensable if you want to keep on spotting opportunities for improvement. You can do this with the free version of Rescue Time, or go for a premium account to access useful features such as achievement alerts, daily accomplishment logs, AFK (Away From Keyboard) tracking, and so on.
Due.com
Similar to Rescue Time, Due.com tracks the time spent by your remote team on the tasks for your project. Unlike Rescue Time, however, Due makes it easy for you to send invoices to your clients for the time rendered on their respective projects. Using this tool allows you to cover the hours spent on your projects and generate a client-friendly invoicing for easy and fast payment.
This way, your focus will be on doing the necessary tasks for your clients instead of computing the cost of your working hours for the week or month.