SEO is no longer a keyword game.
Gone are the days when sites are stuffed with as many keywords as humanly possible.
Nowadays, there is a shift in creating useful content for users.
The influence of keywords and other SEO factors still play a big role in building a successful website. But it now shares the online marketing pie with other tactics
One of those tactics is content creation.
The premium placed on high-quality content makes bloggers one of the most important cogs in the marketing wheels. They help communicate the message businesses want to convey to their target market.
Better yet, they must have existing relationships with other bloggers to help promote their posts to a wider audience.
If the blogger also observes the best SEO practices in his process, then he can command a higher price in the market than most.
The problem now is whether or not these bloggers are getting leads for their business.
Being great bloggers with even greater knowledge in SEO is, well, great.
But all will be useless if they cannot secure a client to save their lives!
If you share the same problem, you are in for a treat.
Below are tools and services to ramp up your lead generation strategy and make potential clients come crawling for your services.
MySiteAuditor is a really cool that lets you embed an SEO form on any of your site pages.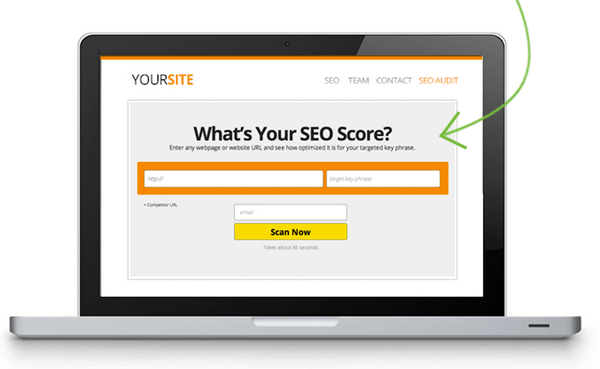 Once visitors fill up the form, they will receive an SEO report in their e-mail within 45 seconds.
There is a white label feature for the SEO reports. Upload your logo and enter your custom message in the report to make it more personal to your visitors.
In return for helping out visitors with their SEO efforts, you get their email addresses. Include these to your email list so they can receive exclusive content and offers from you.
There are different form types to choose from: large, slide-in, slim, and small. Select with form types fits within your page design to maximize conversions.
MySiteAuditor is perfect for SEO agencies looking to increase their leads. But bloggers like you will still have a use for this tool if you provide SEO content as part of your service.
Woorank is similar to MySiteAuditor. It lets you create a branded report about your client website about their SEO efforts.
Unlike MySiteAuditor, you cannot embed an SEO form on your site for lead generation. At least not yet.
I got hold of one of Woorank's representatives about embedding an SEO form on the site. Below is her response.
Once Woorank develops a lead generation widget, SEO bloggers will find it easier to build a content-based SEO campaign.
Despite its current shortcoming, Woorank is the best and easiest to use website analyzer in the market.
Aside from tracking different factors that affect your SEO performance, the tool offers a handy marketing checklist. This provides owners with actionable steps on how they can optimize their site performance.
The checklist also removes the guesswork on your part. You do not have to think of a strategy on how to rank your client sites using content. Woorank will do that for you instead.
Woorank is not a lead generation tool per se. But it will help improve outreach to your leads if you use it together with the tool below.
Unlike both tools above, LeadJoint allows you to determine websites that dropped their ranking on Google search results.
You can customize your search by figuring out the positions and places they dropped from search results.
Once you search for these sites, you will see their target keyword and the trend of their position and place in Google.
Clicking on the dropped places button, you will receive more information about ranking trends over time.
You can use Woorank (or even MySiteAuditor) to create a white-label SEO report for potential clients.
Use the data provided by Woorank to make suggestions to the site owners when reaching out to them. This will help close the lead much easier and turn them into customers.
Wrapping it all up
These tools should increase your clients for your SEO blogging services.
MySiteAuditor takes the inbound approach of generating leads.
LeadJoint encourages you to reach out for your potential clients.
Woorank provided a gamut of data and actionable items to make your client's SEO campaign more effective.
Using the tools together allows you to cover all the bases for your lead generation strategy.
Are there other tools we forgot to mention in the list? Share them with us by commenting below!
Related posts: