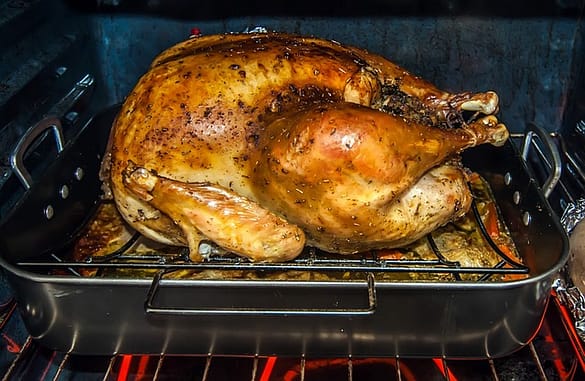 Thanksgiving Day is just around the corner! However, before you gobble down that succulent stuffed turkey with friends and loved ones, take time to list down the things you're grateful for this year.
If you're an online marketer, celebrate the year that was with these key events that took place within the industry.
The "death" of guest blogging
Matt Cutts, head of Google's web spam team, announced the fall of guest blogging as a way of gaining links to your site in January. Months later, MyBlogGuest, the popular site that connected guest bloggers to publishers, was penalized by Google. Users received notices on Google Webmasters about invalid backlinks coming from the site.
While MyBlogGuest is not a blog network in the strictest sense – owner Ann Smarty has mentioned repeatedly that the site is against paid links  – it nonetheless perpetuated the bad habits guest blogging has become known for. Writers are peddling thin and generic articles on the site with dofollow links pointing to their client sites to webmasters in desperate need of content.
Despite what people may say, the penalty is a boon for online marketing. Guest blogging, at this point, was becoming content farm 2.0 in which we get to see uninspired content on websites. By axing guest blogging as a link building tactic, it dissuaded amateur marketers from producing content for the sake of building backlinks. The penalty also restored guest posting to what it is supposed to do in the first place – become a relationship building tool.
Read more: 3 Guest Blogging Lessons (learned the hard way)
Lowered impressions from Facebook posts
Out of the 100 fans of your Facebook page, only 1 will get to see your updates. On one hand, this money-grab move by the biggest social networking site enforces marketers and business owners to pay up via Facebook Ads if they want their updates to be seen by many. On the other, the change cleans up the news feed of users and narrows it down to the updates of their friends and family members, not brands.
Depending on which school of thought you're in, one thing is clear: the lowered impressions force people to be more creative with marketing their business online, which is a good thing. Besides, Facebook is far from the only online medium to reach out your audience. Unless you've chosen to purchase paid ads on Facebook, you can turn to free promotions using Twitter, Instagram, or even the "social referral graveyard" known as Google+.
Big site gets busted for link buying
Hotels.com was caught red-handed for asking influential travel bloggers to promote their website in exchange for monetary compensation. While link buying has always been considered as a black hat SEO tactic, it is still surprising that even big businesses get in this lewd act of gaining backlinks.
This penalty report ensures marketers a level playing field for optimizing their websites as search engines continue to tweak their algorithm and clean up their search results.
This burn on Matt Cutts
In an attempt to improve Google search, Matt Cutts asked people on social media to spot scraper sites outranking their source materials on search results so his team would act upon them. All of a sudden, digital marketer Dan Barker replied with arguably the best online marketing burn of all time:
.@mattcutts I think I have spotted one, Matt. Note the similarities in the content text: pic.twitter.com/uHux3rK57f

— dan barker (@danbarker) February 27, 2014
The tweet identifies the first result generated by Google as a scraper site with the original content coming in at second, which is ironic, all things considered. There's really nothing to pick up from this tweet, except that it feels really good to stick it up to the man once in a while.
Is Google Authorship gone?
On June 29, Google has done away with the Google authorship photos from search results. While reasons for doing this are unclear, many speculate that the seemingly ill-conceived change will have some benefits down the road. If there's anything that we've learned over the years, it's that Google has always been know to be strategic with their moves. Therefore, there's no reason why you should discontinue publishing content and building up your authorship.
How about you, dear online marketer – what are news and updates within the industry that you're grateful for before you celebrate this year's Thanksgiving Day? Share your thoughts by commenting below!
More on online marketing: