Are you wondering how to make your blog stand out in the hyper competitive blogosphere?
A few obvious things generally come to mind: Publish high-quality content, remain consistent, use visuals, be active, and so on.
The problem is that everyone and their dog is doing the same thing, too…
No big deal. Today I'd like to highlight ways in which you will undoubtedly stand out from the pack – regardless of niche and saturation.
First Off: Inject Some Personality
Please, don't sound like a user's manual. Even highly professional brands are slowly adapting a friendly, conversational tone. This is one of the best ways to connect with readers – and it's totally effortless.
Don't be afraid to use some light humor or tell a story that resonates with your audience. On that note, speak of your past failures and the lessons you have learned from your experiences. Simply put, be a good sport.
Aim for Epic: Go All Out
Why publish a list of ten items when you could publish 100? Your post doesn't have to be the very best on the block, and you certainly don't have to publish the best stuff every single time…
However, going for that extra mile every now and then will gradually make your blog stand out. In fact, you might want to follow the Skyscraper technique every now and then – or at least implement it to the best of your ability.
Build a Mega Resources Page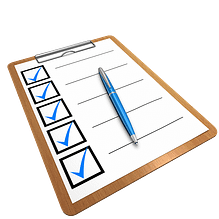 Writing a killer post is great, but unfortunately they tend to suffer from Out of Sight, Out of Mind syndrome.
Once published and shared, you're solely at the mercy of Google and other people linking to it. Your precious post becomes a bit harder for new blog visitors to see otherwise.
So, how about publishing something not merely as a post, but also as a page that's permanently visible on your blog?
Take a look at AllIndieWriters.com, for example. Jennifer has a list of roughly 200 writer's markets that readers can discover easily, all because she published them on a primary page. It has also been linked to countless times as a result.
So, next time you have a list of a million items (whatever they may consist of) consider giving them their own page – front and center.
Host the Occasional Contest
Focusing only on traditional content is fine, but it's harder to make your blog stand out this way.
Have you considered hosting the occasional contest or giveaway? This works especially well on a recurring basis (weekly or monthly, for example).
If your blog is all about literature, you could do a weekly contest where a lucky winner gets a free Kindle book. They aren't expensive and this recurring feature could eventually make readers talk more about you. At the very least your blog becomes more memorable as a result.
Spotlight Bloggers and Readers
Let's face it: We generally feel happy as hell when someone mentions our name. What if you casually visit a blog one day, only to find a post exclusively about you?
This type of article is essentially a profile of someone you respect, whether this person is your average reader or a big influencer. Mention his/her website, explain what it's all about, and anything else of worth.
Publishing these posts only a few times per year also increases their value; they are hard to come by and you would (ideally) be picky when writing.
Treat Your Platforms with Care
This goes for your blog, newsletter, social media accounts, and anything else you use for content marketing.
These sources are your babies, so don't get lazy with them. For example, don't just use your social media profiles as a link dumpster. Try to post more conversational updates than links. This would make the occasional link more valuable and people won't take it for granted as much (as long as it's worth clicking, of course).
Your Turn
What are you doing to make your blog stand out these days? Please share more tips below!
Don't Miss: