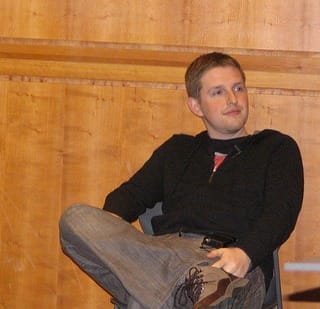 One of the most exciting parts of the recent Northern Voice conference was the opportunity to meet Matt Mullenweg. I hadn't been able to attend any of the WordCamps as of yet and so I hadn't had the honour.
On the first day of Northern Voice, called Moosecamp, Lloyd Budd, also of Automattic, let me know that Matt probably wouldn't be around until the second day of the event.
I was helping Lloyd with his session on answering WordPress related questions, and after it was done, I was ready to hear how blog software could be used for more than just "cat blogs", when from the corner of my eye I see Matt Mullenweg. I did a double take, and of course acted a bit like an idiot around him. It was almost like how people act when they meet a celebrity for the first time.
This is the guy that helped build the platform that my career is based on. Without WordPress, I doubt I would be a full time blogger today, and so while I have always been critical of certain moves WordPress has made, I was very excited to meet Matt in person.
When I went over to introduce myself, I told him who I was, and he already knew, like it was silly for me to even bring up who I was. I told him that while I expected most people to recognize him and know who he is, I didn't think he would take the time to learn who everyone else was. It was an exciting moment for me.
Once I talked to Matt for a little while, my nerves, and excitement relaxed a little bit. I found that he has a very disarming personality, and is very down to earth.

I watched as Matt Mullenweg and Tim Bray talked about photography. During the conversation, I had no idea who Tim Bray was, and just enjoyed their exchange. Tim was working on convincing Matt to use some photo editing software he enjoyed, and then had to head off as it was the end of the conference. Afterwards, Matt mentioned to me that
Tim Bray
is one of the people that invented XML.
The next day,
Matt
was scheduled to give the keynote speech. It was fairly early in the morning, and I was a bit groggy, so I didn't know if he was going to be able to wake me up, but listening him talk about removing barriers between the publisher and getting their content into the world was very inspiring.
I am very happy to have met Matt. I now feel like I understand Automattic, WordPress, and Matt a lot better. I also owe a big thanks to Lloyd Budd for taking the time to answer my nagging WordPress questions. It was worth going to the conference just to listen to both of them.