If nothing else, SixApart has to be happy at the amount of attention their latest news is getting. They recently released a very beta version of Movable Type 4, and also let the world know they are going to be releasing a GPL version of Movable Type, which will be an open source project.
Everyone is ranting and raving over the beta of Movable Type 4. I am really excited to see them updating the administration panel design and functions, despite the problems some people are having with it currently.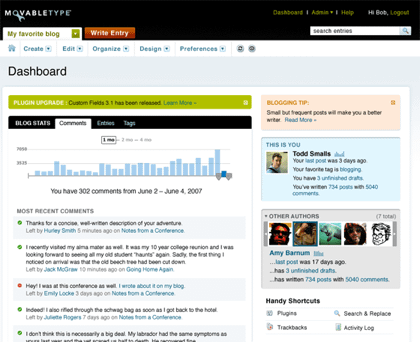 From
TechCrunch
:
There's a lot of history between MT users and SixApart. Although Movable Type was never an open source platform, prior to the release of MT 3.0 many treated MT as if it was open source. The decision to enforce licensing with the release of MT 3.0 caused widespread outrage in 2004 (including rather vocally from myself) and in many ways was a tipping point that delivered WordPress from relative obscurity to being the popular blogging CMS it is today.
Dash said that commercially SixApart had no choice other than to enforce licensing at the time. However SixApart in 2007 is a thriving company with a broad suite of popular products, including TypePad, Vox and LiveJournal, and today can afford to give back to the blogging community.
From Carthik's Wordlog where the title is MovableType: 3 Years Too Late?:
I still clearly remember the day Mena announced the new pricing structure for MovableType. A day later, I wrote up a post on how to move from Movable Type to WordPress. Then, the exodus began – with famous users, like Mark Pilgrim, Molly, and so many others shifting to WordPress. Those were busy days on the #wordpress IRC channel. The number of opinion-leading bloggers who used MT started declining, and most of the new bloggers who came after chose WordPress. While there is no reliable count of the number of WordPress Vs. Movable Type users, I dare say more folks use WordPress than MT.
I think the whole argument about time is a great one. So many people are going to be "once bitten, twice shy", in that they won't be moving back to Movable Type. There won't be a mass return that compensates in any large way for the mass exodus of 2004.
Jonathan Snook also chimes in on the new beta of Movable Type 4:
Unfortunately, I didn't really feel like much get added besides a new interface and better registration. Many of the more interesting features, like being able to clone a blog, are being handled by plugins, many of which were already available for MT3.
Spam protection seems unchanged. I fear how much spam wouldn't be caught by it in comparison to what I have now.
It's also still Perl at its core. This is one area that I think turns off developers. Not that PHP is a dream to program in but more people know PHP than Perl.
And if you want another great review roundup, check out Lisa's blog, which I found from Matt Mullenweg's blog.