One of the things I get asked most often by people looking to set up their first WordPress site, is how to do it. WordPress has one of the easiest set-up processes you can ask for, but it does take a fair bit of computer knowledge to get through it the first time. You have to interact with a database, edit a configuration file, use an FTP client to upload the software, and then run through its quick online install process, before modifying WordPress to suit your needs.
In this short guide, I am going to walk you through my install process, as I go through the starting steps, to which plugins I use to help my workflow and keep comment spam to a minimum.
I am going to assume a few things in this article, like that you have already downloaded WordPress from WordPress.org, and that you know a little bit on setting up a database and FTP'ing files. If you don't know how to deal with adding a database to your host, you should check out their Frequently Asked Questions, as I know Dreamhost was a bit odd to me, due to the way they handle databases and their control panel. If you have problems FTP'ing files up onto your account, you will want to contact your web host, or check their Frequently Asked Questions, as they usually have some great tips, tricks and tutorials on how to upload files quickly and easily.
Setting up the Database
All of my web hosting accounts allow me to use cPanel, an easy to use interface that allows you to quickly get to the important control areas of your website. It allows me to easily add a database as well as a user for the database so that WordPress can run properly. The steps you need to take in cPanel is to click on mySQL Databases link, or icon, depending on your host, and then adding a new database, adding a new user, and making sure you add the user to the database, giving the user full permission to add and remove records and whatnot.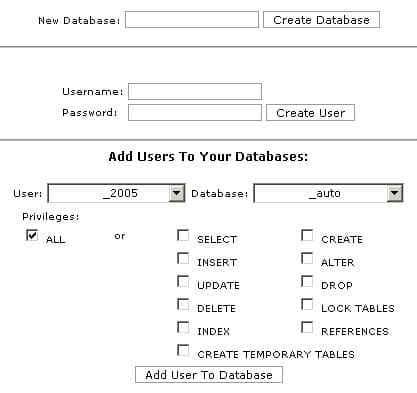 WordPress stores all its information, and your blog posts in the database, and so it has to be able to connect to the database with full permissions.
Editing the Config File
To tell WordPress which database to use, you have to edit a file that comes with WordPress. They give you what is a wp-config-sample.php. You have to rename this to wp-config.php and change a few lines. They have commented the code really nicely, so understanding what to change is relatively easy. You can use pretty much any text editor to change the file, but I use
Crimson Editor
.
define('DB_NAME', 'dbname'); // The name of the database
define('DB_USER', 'dbusername'); // Your MySQL username
define('DB_PASSWORD', 'dbpassword'); // ...and password
define('DB_HOST', 'localhost'); // 99% chance you won't need to change this value
// You can have multiple installations in one database if you give each a unique prefix
$table_prefix = 'wp_'; // Only numbers, letters, and underscores please!
The things in bold are the ones you can change. For the first three items, you will input the information you used when creating your database. The last item, asks you what you want the tables in the database to be prefixed with. This allows you to install more than one WordPress blog in one database, as you can change the prefix to different things. I always change mine to better identify which blog the tables refer to, though you can keep it as its default.
Uploading WordPress
Next you have to get your blog onto your web host. You need to upload the files to where you want to install WordPress. Most people put it in one of two places, either in the root directory, so it is the first thing people see when they come to your site or in a sub-directory, a folder like "blog".
For uploading my files, I either use Explorer or WS_FTP LE. I input my details and connect. I then drag and drop all the files and folders and upload them to my hosting account.
Installing WordPress
Once all the files are uploaded you only need to browse to where you put WordPress and go to
/wp-admin/install.php
. So if you installed it in your root directory, you would go to
www.somedomain.com/wp-admin/install.php
and it would bring you to WordPress' install page.
You then click on First Step, and it will bring you to a page asking you what you want your blog title to be as well as your current e-mail address. Once you click submit, it will bring you to the last page in the install process where it shows you your temporary password. You will want to write this down so you can log into your WordPress blog. I also recommend changing it as soon as you are logged in, via the Users tab.
Anti-Spam Plugin Akismet
For WordPress 2.0.x and above,
Akismet
is one of the plugins that comes with the software by default. A plugin is an additional tool or feature that not every user needs, but can expand WordPress far beyond its original intensions. Akismet is a plugin that is one that I think should just be integrated into WordPress' core, as it is to combat comment spam, and honestly, who doesn't want to combat comment spam?
To activate it, you only need to go to the plugins page, click enable, and it will say that it can't enable all the way without an API key. This key is easy to get though. If you sign up for an account at WordPress.com you can get an Akismet API key. Another route you can take is to purchase one from
Akismet.com
.
Changes I Make
I don't like the visual rich editor, and so I uncheck that box once WordPress is installed. I also make sure to give a proper tagline to my blog under Options -> General, as none of the blogs I launch, are "just another WordPress blog". I also check over all of the other options to make sure everything looks right, and then I mess with my Permalinks. I don't recommend playing with the permalinks unless you have some idea of what you are doing, or atleast know someone that does. While WordPress makes it extremely easy to use, you can still run into problems that while easy to fix, could be very annoying until you find the resource to fix them.
Conclusion
There are many other plugins, themes and whatnot that I won't talk about here, as that is getting a little advanced for this post, but most of them are as easy to use as Akismet. You just upload them to the correct place, enable them, and change a few small details here or there to make them work correctly on your blog. Once you have installed WordPress more than once, you will find your own workflow being created that allows you to install, add plugins, and customize WordPress for your needs in a timely manner.
For those of you out there that already have a workflow for installing WordPress, I'd love to hear about it, so if you have a blog, post about your install process and link to this post. It should add your post to the trackbacks here. I would be very interested to see how other's do it, as I have heard some very interesting ways to install, update, and modify WordPress.