Olympics marketing lessons and blogging success
With the 2016 Rio Olympic Games upon us, I was thinking about the many similarities bloggers and marketers share with professional athletes. The fact that we can learn so much from these competitors truly is a beautiful thing, and much of our blogging success aligns perfectly with everything Olympians practice and endure. Let's look at 5 Olympics marketing lessons every blogger and entrepreneur can benefit from.
Setting Realistic Goals
Olympic athletes, much like aspiring and avid bloggers, consistently dream of winning the grand prize. This comes as a gold medal for the former, while the latter strives for a loyal following and healthy profits.
The similarities lie in setting small, manageable goals. Training and learning may start out a bit sloppy, and some of us may even feel uncertain about the future. Deep down, however, we know that small achievements will get us closer to the finish line one step at a time.
As a blogger, you will be consistently faced with new projects and goals such as growing a following, providing advice, organizing webinars, and social media maintenance. Like a smart athlete, analyze the landscape and start small, gradually polishing your skills until your dream becomes reality.
Possessing the right mindset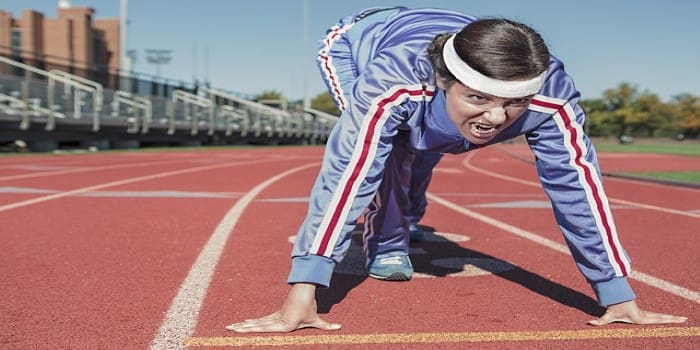 Most intermediate bloggers possess a level of knowledge that is very similar to yours. They know the hard work involved and the time required to succeed in the long run.
What sets bloggers apart, however, is their refusal to give up.
Despite consistent and rigorous training, Olympic athletes sometimes fail because someone else – at one point or another – had a greater competitive advantage. This benefit is not always physical, but rather psychological.
Although failure isn't always related to poor mindset, the appropriate mentality will often help you overcome some of the most difficult situations. This is one of several Olympics marketing lessons that will keep you from falling and staying down.
Analyze what's not working and write down a business plan to help you see your problems more clearly. Then, if there is even a remote possibility to improve or overcome said problem, chances are you will make it work regardless of how much blood, sweat and tears you pour along the way.
How bad do you want to succeed as a blogger and digital marketer?
Standing Up to Adversity
Olympic athletes occasionally face various setbacks, with the most tragic being personal injury. Something that keeps them going, though, is their ability to get back up and work through their issues no matter how difficult the road ahead may seem.
When your blogging ventures look rough, strategic planning and sheer determination is what ultimately defines you. Perhaps you haven't experienced the amount of traffic, leads and overall success you expected, especially if others in your field have succeeded within a reasonable time frame.
Remember this: The fact that others have done it is irrefutable proof that you, too, can reach new heights. Study your field, your allies and competitors, asking yourself dozens of questions pertaining to the most puzzling problems. Analyze everything like a scientist, then cross off each question with absolute certainty.
Even if you don't get to see the statistics you strive for, there will be another day to try again and improve your status. Think about competitors in the Special Olympics for an endless source of inspiration.
Working as a Team
No Olympic athlete has ever made it all on his own. Sure, they get all the media attention while competing, but their success is ultimately achieved through team work. Think about their trainers, their family and friends who consistently push them to improve their abilities…
Meanwhile, who is your blogging team and your continuing source of inspiration? Your readers, followers, fellow influencers, and even those who do not yet know your blog – as you strive to touch the life of new people every single day.
This is your support system. This is your team, and they are backing you up every step of the way.
None of us would be where we are without that helping hand, whether someone is encouraging you at a training center or thousands of miles away behind a computer screen.
Embracing the Competition
While most bloggers look for non-competitive niches, we also appreciate (and even enjoy) all the challenges that come our way.
We realize that a competitor's article is ranking a tad higher, prompting you to improve your content and deliver greater value. You have fun in the process because you're not only teaching others, but you're learning a thing or two as well.
You already know that competition is one of the many things an Olympic athlete looks forward to. This is the driving force that keeps them going – much like the force that keeps you going.
Your Turn
What Olympics marketing lessons have kept you going as an avid blogger? How have the Olympics helped you as a successful marketer and as a competitive and optimistic person?
Don't Miss: