Owen Winkler, one of the head honchos of the Habari development has posted his insight on the project covering things from "what is Habari?" to "When will it be ready for me to try?". Though he doesn't answer the when question in his post, it is still a great listing of what made him decide it was time to move on from WordPress.
My favorite question he both asked and answered is the one about the technical specifications of Habari as the software will use PHP5, a MySQL or SQLite PDO, among other things.
Isn't the high-tech requirement a bit steep for the common blogger?
Last year I started putting my Adsense money to good use, buying cheap hosting at a ton of hosting sites to see if you actually get what you pay for. That plan… It kind of fizzled. But as a result, I've got a few hosting plans at a few popular hosts and suddenly a good reason to do some "common man" testing.
As it turns out, Dreamhost, Site5, MediaTemple, and A Small Orange will all support Habari, with a single config line change. If your host isn't on this short list, your host might even still be able to run Habari. The thought that PHP5 is not widespread enough to be mainstream is, well… about as old as PHP4.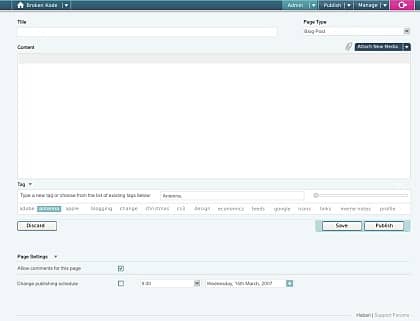 Other than that, on the Developers list, Chris J. Davis let it be known that the core team really wants to get a developer preview release out the door by
January 31st
, which is only two weeks away. They have a fair bit of work to do before that point, as many people continually try to work on the design, marketing, and other things that certain people would like to have considered secondary goals.
I am interested to see if their developer release will include any documentation, but at this point, I don't think the core group is too concerned about that.