Let me get this straight from the get go: I am not a big fan of popups on web sites. I think they're intrusive, especially if you can't get rid of them without subscribing or responding to whatever call to action is presented.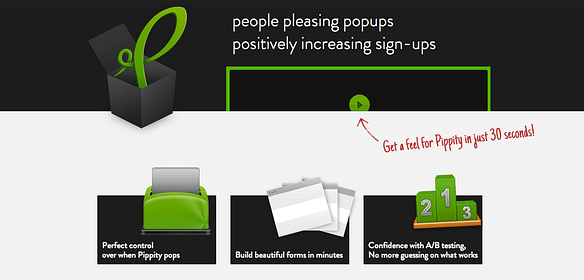 You'll understand then, that when the idea of using a popup plugin for BloggingPro (and other Splashpress Media sites) were brought up, I was less than enthusiastic. Then again, I recognize the fact that many other big web sites are using popups – not to mention my belief in trying something at least once and seeing how it goes.
That brings us to the WordPress plugin called Pippity.
What Pippity Does
Pippity is a WordPress plugin that allows you to create popups to invite people to sign up for your newsletter. Just like any other plugin, you install it on your WordPress site, and then configure it to your satisfaction. That's where Pippity stands out.
Advantages of Pippity and Our Own Experience
I've never hidden my lack of enthusiasm for popups, but Pippity offers such flexibility that you are able to tweak your popup so that it works in the "best possible way".
What does this mean? In my book, important elements include:
Aesthetics – the popup has to look good and match the site's theme
Customization of popup elements – being able to use custom images, choose fonts, etc.
Settings that will offer users as an unobstrusive experience as possible
Easy set up
Guess what? I was totally relieved that Pippity meets all of the above.
Setting up
If you've installed other WordPress plugins before, this should be a breeze. It's basically the same process, except that you will have to connect your email newsletter service/platform to the plugin. To be honest, I was surprised to see how easy it was to do that.
We use Aweber for our newsletter service, and it was a matter of clicking the "Automagic" feature, which gives you clear instructions to connect the services. All you need is the ability to follow instructions and a little common sense.
Themes
Pippity has 12 basic designs to choose from, so that you can opt for the one that fits your site's theme best. This is great if you don't have a lot of time, or you don't have enough technical knowledge to create your own theme. That leads us to another crucial point: Pippity allows you to upload your own theme.
Customization of elements
Once you've settled on the general look of your Pippity popup,  you can then go ahead and tweak the design as much as you want. Change the font type, size, and color if you want. You can also change the colors of other elements – opacity, copy,
Settings
You know how irritating it can be when popups keep popping up no matter what you do? With Pippity, you can make sure your readers don't have that experience. You have full control over the behavior of your popup – from how many seconds before the popup shows up to pageviews before the popup appears. The latter is important to me, because I think users should see at least one page/post before being invited to subscribe to a newsletter, don't you? You can also choose how many days before the popup appears again, making sure you give readers time to breathe.
Our Results
Before using Pippity, what we had was this little tab on the side of the web page.
Readers have to click on the tab for the newsletter sign up form to show up.
It worked, sure, but we didn't really get a lot of sign ups even though it had been there for months on end. With only a hundred or so subscribers, there really wasn't much to lose by trying out Pippity popup, right? So tried it we did, and you might have noticed this popup showing up in recent weeks.
Believe it or not, we've almost quadrupled our subscribers since we've used Pippity, and we're still getting sign ups every day.
This is a case of me eating my words. I may not like popups but with the right tools and proper tweaking and testing, they do work!
Do you have your own newsletter? Why not give Pippity a try?