Affiliate marketing is a great way to generate an income stream from your website. The process of building a site chock-full with affiliate products narrowed down to your niche can be time-consuming. If done correctly, however, you can amass income without lifting a finger!
The power of affiliate marketing lies in your ability to create compelling content that will convert site visitors into customers. If you have joined high-paying affiliate programs of a product or service and want to sell it on your site to earn commission, you need to give visitors a good reason why they should buy from you.
The most important factor when writing affiliate product reviews
Your content should lay the foundation of trust that is important when it comes to converting online. This is the key that helped top affiliate marketers unlock their success.
People won't shop at stores if they don't believe that the online store is trustworthy. Therefore, you need to make your audience feel safe when browsing and making transactions on your site or blog.
One of the many ways to foster trust with your audience through content is by writing objective reviews about your affiliate product. The review serves as an informative overview of the product you are selling on your site. It should be as comprehensive and exhaustive as possible to provide readers with a better understanding on whether or not they should buy the product.
Below are ways on how you should write your product reviews to increase your conversion in affiliate marketing.
1. Add a summary box
One of your objectives with your affiliate site is to make your content easy to read. By focusing on readability, it helps communicate your message more efficiently to your readers.
Assuming that you're aiming to be thorough in your review, it will be very difficult for readers to keep up with the details of your post. Therefore, it would be beneficial for you to create a summary box for your post.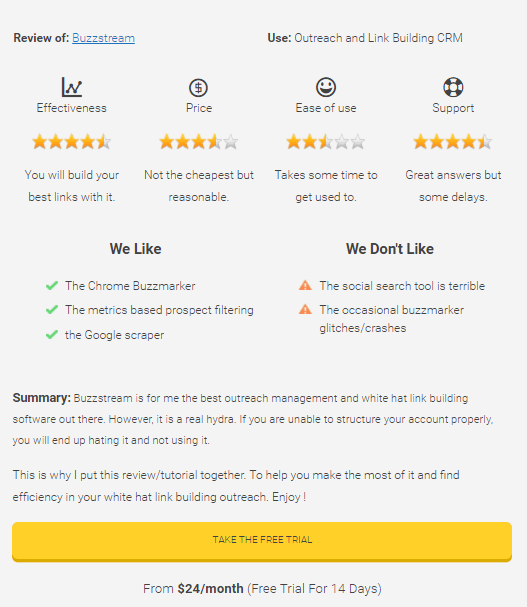 Looking at Authority Hacker's summary box for its Buzzstream review, it contains all the key points that your readers should know about the product. It also mentions the factors by which you are judging the product with and how it gauges with each. The author indicates the things he likes about the products and the things he didn't, giving readers a taste of his preferences. Finally, he included a call to action at the end after the paragraph summary of the product in a nutshell.
If the readers are compelled by your summary box, you can make a sale then and there! If not, they can still read the post for more information until they come up with a decision. Either way, a summary box located at the top part of your product review should do wonders to the conversion rate of your review.
2. Share your story
Everybody interested in a product or service has a story to tell. Most of the time, the product aims to relieve a pain point or provide a solution to a problem in your life. Why not share why you used the product in the first place?
This helps in humanizing your review. Instead of reading a product review from unbiased eyes, they read the review from a perspective of an actual human being with feelings. Telling readers how the product has made a profound impact on your life, given your story, will encourage readers who are just like you to try out the product for themselves.
3. Be Objective
More importantly, the review must be unbiased and objective. You should not put a positive spin on a product in the hopes of increasing your conversion. Your goal is to lay down all the facts about the product and let your readers decide for themselves. By being truthful and honest in your reviews, you can build a stronger rapport with them and makes your reviews even more effective.
4. Put the product through the wringer
As mentioned earlier, you need to be as exhaustive as possible in your reviews. That means using different factors and measure to gauge the performance and quality of the affiliate product.
Take this reviews hosted at InMotion Hosting as one of the few examples. The author goes in depth about the hosting's uptime, which pertains to its reliability to keep your site up and to run. He even provided screenshots as proof of the hosting's performance so readers can see for themselves.
By putting the product to the test in your reviews, you can convince readers that the product is worth purchasing.
5. Review products you like
About being objective, you need to find products that you have tried and enjoyed using. You cannot write about products you haven't tried because the review will come off as incomplete and insincere. The same thing goes for reviewing a product you hate but pretending to like it be because the payout is good.
An example of showing how much you like a product is this SEMrush review by Matthew Woodward. He truly believes in the power of SEMrush that he features 68 ways on how to use to tool to increase your search rankings.
Therefore, you need to focus your energies on reviewing things that you like because it will reflect on the review. It helps that you details how you used the product and why you think it's awesome because your readers will feel the same. And the message will become much clearer if you show passion for the product.
Conclusion
Talking about your affiliate product using the tips above will help you create better and higher converting reviews. Since you want to turn readers into buyers, you need to give them reasons to place their trust in you. By being objective, honest, and thorough in your reviews, you can instill confidence in your audience, which gives way to them purchasing your affiliate products.
Related posts:
How to Increase Affiliate Marketing Sales