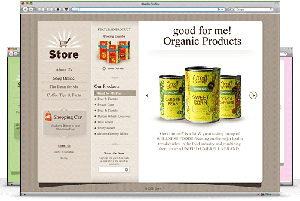 One day closer to New Year 2010 can only mean one thing here at BloggingPro: it's Giveaway time again!
Today Bhavesh Radadiya from Templatic joins us and explains why they rebranded from PremiumThemes to Templatic, as well as shares his ideas on the future of WordPress. Templatic also gives some licenses for their recently launched, excellent WordPress ecommerce theme 'Store' for our readers.
Hello Bhavesh, thanks for taking time for our interview. You have been long involved in the WordPress and theme community but somehow are not one of the 'brands' out there. Could you quickly introduce yourself to our readers?
Hey everybody. This is R.Bhavesh. A 27 year young net entrepreneur from India. I love to design websites with a blend of usability and a perfect architecture, helping the end user achieve to their goal. Creating products at Templatic.com allows me to do exactly that and that's why I am working full time at that.
Congratulations on the successful relaunch and rebranding of PremiumThemes/Templatic. Why did you decide to ditch a long standing name and a great URL? Does it mean that we can expect themes for other platforms from Templatic in the near future?
Thank you. After getting started with PremiumThemes.net, I realized that creating templates for the end user tho helps the create a professional, strategic site affordably is what I love doing most. For years to come, I'd be doing the same thing.

And doing something for long time needs a perfect branding. Premium Themes was actually a great URL but its a keyword that only works for WordPress. Over time, popularity of Wp may decrease but we will create templates for other platrorms as well.

Templatic is a keyword that gives an impression of templates/skins/themes – a perfect name for branding that what we are doing.
What do you think has lead to the huge popularity of WP? Was it 'the right thing at the right time' after the Movable Type change in license or is WordPress itself the best platform for what it does?
You can say that. But I also believe that WordPress the best platform for creating small websites and blogs is. Easy to use is the best feature of WP have and people love it for exactly that same reason.
At the same time, the actual users of a CMS / Blogging Platform are the people who are getting started / have a small business and they are looking for something cool and a cost-effective solution. WordPress all these uses and covers these needs. Being free, people tried it risk-free and loved it. Movable Type might have thad more potential at that time but charging for something that is available fore free as well does not appeal to me so much.
I'd also say it was a smart move by Matt Mullenweg. I wouldn't point them out but over the time of last three years, I notice him making several moves at the right time and that keeps the popularity of WP going on.
Do you think WordPress has cornered the market now or is there still place for another platform, and if what would it be?
If we take wordpress as a blogging platform, Tumblr and Postereous are cornering the market. WordPress is now being used to create websites. For now, I don't see an alternative to WordPress but you never know. Something extra ordinary comes once in a while and the trend changes.
Recently lots has happened in the CMS community: the demise of Postnuke, Joomla seems to be headed the same way as Mambo and some lead developers and users of Movable Type have created a fork of MT, Melody. It seems that the creation of a WordPress Foundation is nearing. Do you think this is a good move for the community or does it involve major risks, could it end in internal war like what we are currently seeing at Joomla? Most of all, are we running out of options?
We have a very good a solid option with WordPress. I always believed that WordPress has the "power of plugins". The community is hugely involved this way and will continue to flourish. All plugin developer are contributing in their own way while keeping the core code untouched.

I have no opinion on the WordPress Foundation. WordPress is unique in its own way and I would prefer it as-is.
As a designer I suppose that you always lookout for the newest platform software, who do you think could make an impact next year and is there something that could make a new platform stand out being a viable alternative to WordPress?
Right now, Tumblr is leading on the blogging platform. If you consider WordPress as CMS , I don't see an alternative at the moment because people are really comfortable using it.

But surely there will be a scope for another CMS that offers simplicity. WordPress is introducing more and more features with each version and I fear, it will become bloated one day. Automatically it will create room for others just like they did for the tumblr and others.
Thanks for your time and we wish you and Templatic a great 2010. We here at BloggingPro are looking forward to new releases from Templatic.
Year 2010 will be the biggest year for us as we definitely have great plans with revolutionary products that we will release in the first half of the year. Also our team is growing 3 fold at our headquarters in Surat, India that will add some great value at Templatic.

Thanks for the wishes. Have a good day.
How To Enter The 2009 BloggingPro End of Year Giveaway?
Until the end of 2009 BloggingPro will host every day a new giveaway and every day a new price can be won. Winners will be randomly chosen and announced here on January 3rd 2010.
Today we have 3 copies of the awesome ecommerce theme 'Store' by Templatic for our readers.
To participate to today's competition and win one of the three licenses, follow follow BloggingPro on Twitter (we will check) and tweet about the BloggingPro giveaway and the Store theme (use this link to have both links included!).
Today's competition will be closed on December 30th 2009 at 23:59PST.