Check SERP Ranking for Keywords with Ease
If you are a serious blogger, chances are you rely on organic keywords to leverage Google's traffic for any given topic – at least to some degree. We have been conditioned to use low-competition keywords and phrases for many years now, leading to dozens – if not hundreds – of articles optimized for maximum organic traffic.
However, there's a problem with this: How can we keep track of articles/keywords on the search engine's results page (SERP) consistently? This is where RankScanner: Rank Tracking comes in.
RankScanner is a Google SERP checker plugin that tracks the position for any particular keyword on your website, right down to the actual page where it's found.
Let's take a more detailed look at this nifty WordPress SEO tool.
Initial Setup & Usage:
RankScanner is very light and user-friendly in nature. Right after installing, you must create a free account directly from the plugin's dashboard or via its official website.
Once ready, enter at least one keyword (or phrase) for RankScanner to track. Select the Google search engine language and country, and you are good to go. You don't need to specify the URL of the article you wish to inspect for a SERP position; simply enter the desired keyword(s) and the plugin handles the rest.
The end result? All keywords present you with crucial ranking information, showing the exact position where your article or page stands on Google. This is all shown straight from the plugin, which means you no longer have to manually check any keywords outside of your site.
Available Details:
RankScanner tracks any changes to inform you whether a page's position has improved or dropped, thus allowing you to modify it as necessary. This is the perfect way to stay on top of things and gain a competitive advantage over everyone else.
The Google SERP checker plugin also provides detailed historical data with a comprehensive graphical chart, enabling you to visualize any changes in your article's position over time.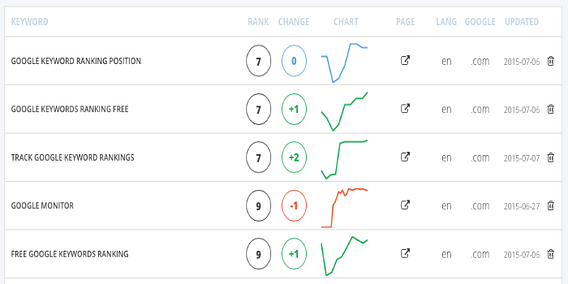 One of its best accompanying features is a suggestion engine that generates a list of relevant keywords based on your initial input and your blog's overall content. Even if you know what keywords you're primarily after, oftentimes you will unknowingly rank for related phrases as well. This is where the keyword suggestion tool shines; simply tell the plugin to analyze them as well, and you'll often be pleasantly surprised with the results.
Free Versus Paid Options:
The free version of RankScanner allows for five keywords at a time, monthly search position updates, 20 page audits, and up to three fixes per page. However, a quick Twitter shoutout grants you 20 keywords as of this writing – not a bad amount for promoting this plugin to your friends.
There are several paid versions depending on your needs, with benefits such as 500 additional keywords to track, and even daily search position updates. All paid options automatically come with a 30-day free trial, a tempting benefit and one I personally recommend if you are serious about keyword positioning.
Feedback:
RankScanner is a great plugin as-is, although there are certain missing features some users might wish to use someday. Granted, the following suggestions are only missing as of this writing, and they may very well become available later on:
Additional search engine support: Google clearly dominates the search engine game, but adding Bing would be a great idea due to its popularity.
Bulk keyword management: The ability to remove multiple keywords at once, and perhaps an option to import from a text or CSV file.
Conclusion:
Overall, RankScanner: Rank Tracking is a fantastic Google SERP checker plugin no blogger should be without. Check it out if you've been meaning to revamp your content marketing strategy, as this friendly WordPress SEO tool will undoubtedly help you in the long-run.
Also don't miss: