This week, we're giving away a free responsive website – or tools to create one – from MotoCMS.
Become an owner of an awesome site template in addition to MotoCMS responsive website builder for free, by participating in the giveaway.
Before we go to the giveaway details, you probably will want to know what you're getting into. If you're already familiar with MotoCMS, you're good.
What is MotoCMS?
MotoCMS is a developer of website templates with thousands of customers and a vast product collection, including ready-made websites at reasonable prices, for almost every kind of existing business.
They pride themselves on having the following features.
Fast Installation
One of the major benefits of getting a responsive website powered by MotoCMS is that it will save you time. Your website design will be installed within minutes. Besides, the files are not tied up to any host so you can easily transfer your website anytime you want.
Free Updates
The MotoCMS team is constantly working on how to improve its products. After you become an owner of a MotoCMS responsive website template, you will get all further updates for free.
Professional Customer Support 24/7
If you need professional advice on any issue related to your website or website builder, you are welcome to contact MotoCMS customer support. Make a call or use the live chat. Professional operators will help you immediately. This service is absolutely free.
MotoCMS Responsive Website Builder
One of the advantages of the website template that is up for grabs is its full customization features. You don't have to learn code or web design to make a website anymore, thanks to the admin panel powered by MotoCMS – a user-friendly WYSIWYG website building platform with drag & drop functionality, allowing anyone to redesign their own website without leaving the web browser.
Please note that the admin panel is available for any MotoCMS website owner. It is free of charge. You don't have to pay extra for it.
SEO-friendliness
Optimize your website through the basic SEO settings in the admin panel powered by MotoCMS. Come up with original titles, descriptions and keywords and type them into the relevant fields in the properties for each page of your website. You can also check the No-index, No-follow and Hide Canonical boxes to enable these features.
Blog Functionality
MotoCMS has recently added a range of responsive website templates, made especially for bloggers. By using this, you are able to manage your blog right in the admin panel powered by MotoCMS.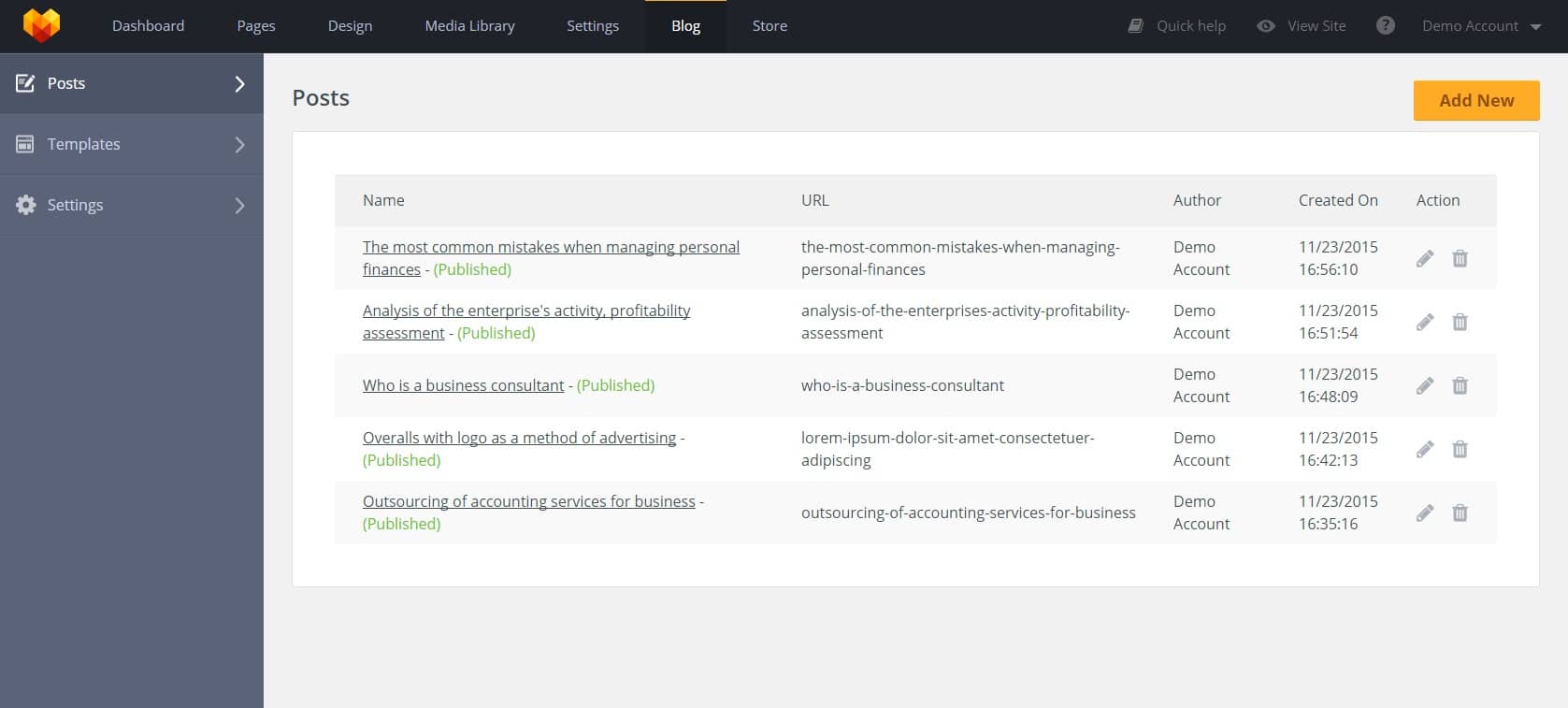 To start blogging, you just click on the "Blog" button on the admin's panel dashboard. Here you will find three tabs: Posts, Templates and Settings. With these tabs, you can do practically everything you want and need.
Samples of MotoCMS templates
Take a look at some of MotoCMS templates.
Those are only some of the templates you can find at MotoCMS…and now for the giveaway – a free website from MotoCMS.
Get a free website from MotoCMS
This is a little different from what we usually do, but it's simple.
If you're already familiar with MotoCMS, tell us about your experience in the comments.
If not, let us know why you want to try one of these responsive website templates powered by MotoCMS.
Gain entries by following the instructions above via the Rafflecopter widget below.
Some important details, as usual:
The giveaway starts today, February 15, and ends on February 21.
ONE winner will be chosen randomly and announced on February 22.
You can tweet once every day to earn more entries
Happy commenting and tweeting. Good luck!